Eggplant Croquettes
by Editorial Staff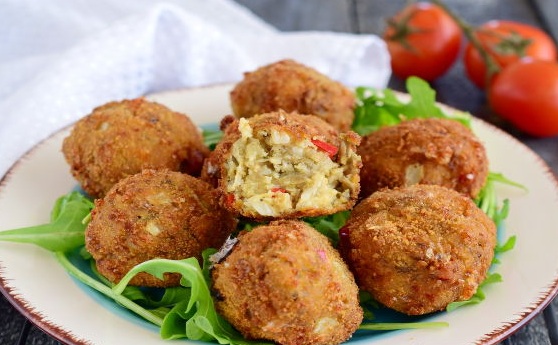 Juicy and aromatic eggplant croquettes taste like meat patties; none of your household members would even guess that they are vegetables. The croquettes of this recipe are an easy-to-prepare dish that will diversify your eggplant menu.
Cook: 50 min.
Servings: 2
Ingredients
Eggplant – 300 g (2 small or 1 large)
Bulgarian pepper – 1 pc.
Bulb onions – 1 pc.
Garlic – 1 clove
Hard cheese – 50 g
Chicken egg – 1 pc.
Provencal herbs – 1 pinch
Olive oil – 1 tbsp
Sea salt – 1 teaspoon
Ground black pepper – 1 pinch
Bread crumbs – 3 tbsp
Vegetable oil for frying – 150 ml
Arugula (for serving, optional) – 50 g
The secret of the deliciousness of these croquettes is that the eggplant is pre-baked in the oven and its pulp acquires a haze aroma.
Directions
Peel the eggplant and cut it into strips. Place the eggplant strips on a foil-covered baking sheet. Sprinkle the eggplant with olive oil and sprinkle with salt. We send a baking sheet with pieces of eggplant in an oven preheated to 180 degrees for 20 minutes.

While the eggplant is cooking, prepare the rest of the ingredients. Cut the onion and Bulgarian pepper into small cubes. Place the vegetables in a bowl.
Let's add an egg to the vegetables.
Squeeze out a clove of garlic.
Grate the cheese and add it to the rest of the ingredients. Add also a mixture of Provencal herbs and ground black pepper.
Grind the baked eggplant slices in a blender or simply knead with a fork into small pieces. Add the eggplant pulp to the bowl with the rest of the croquettes. Mix well all the components of the minced meat.
Form the resulting minced meat into croquettes of vegetables and cheese, the size of a walnut. Roll the croquettes in bread crumbs. You can fry vegetable croquettes in a skillet in vegetable oil for 3-4 minutes on each side. Or you can deep-fry croquettes by frying them in oil for 3 minutes.

Put the finished eggplant croquettes on a plate with herbs and serve with pasta, boiled mashed potatoes. In my family, they are swept off the table with sour cream sauce or ketchup. Bon Appetit!
Also Like
Comments for "Eggplant Croquettes"