Fish in Sweet and Sour Marinade
by Editorial Staff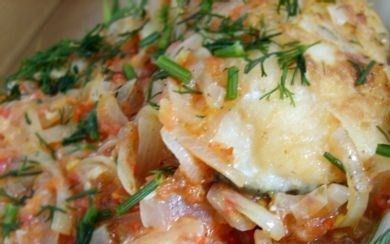 Fish in a sweet and sour marinade is my grandma's signature dish. Unusually, fabulously tasty fish in the sweet and sour marinade with tomatoes, onions, and spices. Just a delight!
Ingredients
Any fish (hake, pollock, etc.)
For the marinade:
Tomatoes (fleshy) – 1-2 pcs.
or tomato paste – 1 tablespoon
Onions – 1-2 heads
Garlic – 3-4 cloves
Small carrots (optional) – 1 pc.
Broth cube (preferably vegetable)
Lemon juice (vinegar) – 1-2 dessert / tablespoons
Honey – 1 dessert / tablespoon
Bay leaf – 2-3 pcs.
Dried herbs (at your discretion)
Dill and parsley
Flour
Vegetable oil
Cooking fish in the sweet and sour marinade:
Directions
Peel the fish, wash, cut into portions.
Add spices to flour, mix. Dip fish slices on both sides in flour.
Heat a frying pan, pour in the vegetable oil, and lightly fry the fish on both sides. Please do not overcook! Who can not fry, you can bake fish in the oven. The taste will not lose from this.
Peel, wash, chop the onion. Put in a frying pan, pour in some water, turn on the fire, and wait for the water to evaporate. So we get rid of the bitterness of the onion.
Add honey to the onion, mix. Add dried herbs, spices, bouillon cube (pre-mash it), garlic, passed through a press, and bay leaf, and a little vegetable oil. If desired, you can add carrots, cut them into small cubes. Mix well. Put out for 1-2 minutes.
Wash the tomatoes, grate (no skin), and add to the pan with onions. If desired, you can replace tomatoes with tomato paste diluted in warm water. But I like the smell of fresh tomato more. And grandma cooked like that. Mix well.
Add lemon juice (vinegar) and finely chopped herbs. Mix everything thoroughly and stir a little.
Put the fish in a deep bowl and pour over the cooked hot marinade. Cover with a lid. Let it soak well.
Serve the fish in a sweet and sour marinade hot with mashed potatoes, fresh salads, and other side dishes.
Enjoy your meal!
Also Like
Comments for "Fish in Sweet and Sour Marinade"