Marinade for Fish
by Editorial Staff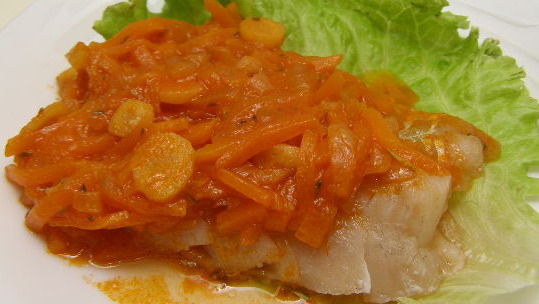 Marinated fish will turn out to be especially tasty, even if it is simply boiled or steamed. And this recipe for a marinade for fish will help him prepare. This vegetable fish sauce is especially suitable for fish with a neutral flavor.
Cook: 50 minutes
Servings: 4
Ingredients
Carrots – 100 g
Onions – 100 g
Parsley root – 30 g
Vegetable oil – 4 tbsp
Tomato puree – 5 tbsp
or Tomato paste – 1.5-2 tbsp
Fish broth – 1-1.5 cups
or Water – 1-1.5 cups
Salt – 0.5 teaspoon
Rosemary – 0.25 teaspoon
Thyme – 0.25 teaspoon
or other Spices for fish – 0.25-0.5 teaspoon
Directions
Chop the peeled vegetables: Cut the parsley into thin slices.
Finely chop or grate carrots.
Finely chop the onion.
Heat oil in a frying pan. Fry the prepared vegetables in vegetable oil over medium heat, stirring occasionally. You need to fry for 10-15 minutes.
Fold in a bowl with high sides (saucepan or cauldron), add tomato puree or tomato paste. If tomato paste is used, then you need to additionally add another 2-3 tbsp of water. Boil with tomato puree or paste over low heat for 7-10 minutes.
Pour in water or fish broth made from fish bones, heads, and tails. Add salt and spices, cook the fish marinate for another 15 minutes.
Enjoy your meal!
Also Like
Comments for "Marinade for Fish"