Fried Fish with Vegetable Marinade
by Editorial Staff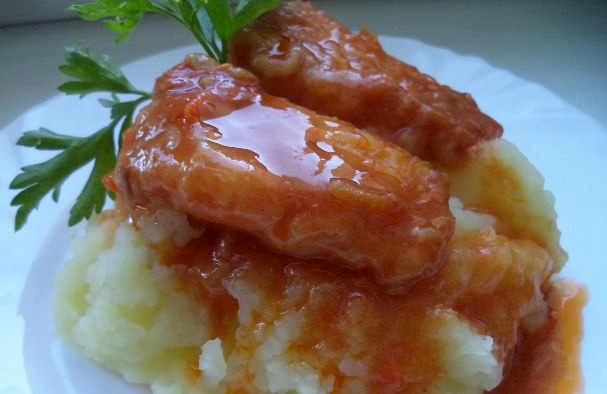 Would you like a delicious fish for lunch? Please! 🙂 I recommend using this recipe to cook any sea fish fillet or non-bony river fish, such as pike perch.
Cook: 1 hour
Servings: 8
Ingredients
Fish (fillet) – 1 kg
Onions – 2-3 pcs.
Carrots – 1-2 pcs.
Tomato puree – 1-2 tbsp
Bay leaf – 1-2 pcs.
Vinegar – 2 tbsp
Vegetable oil – 50-70 g
Flour (for breading) – 100 g
Salt to taste
Pepper to taste
Sugar to taste
Water – 2 glasses
How to cook marinated fried fish:
Directions
Defrost fish fillets, wash, squeeze out excess moisture. Cut into portions. Salt, stir, leave for 20 minutes.

Dip the prepared fish in flour.
Preheat a frying pan, pour in vegetable oil. Put the fish in hot oil. Fry on both sides until golden brown, about 3 minutes each over medium heat.
Place the fish in a saucepan. So fry all the fish.
Make a marinade. To do this, peel and wash the onions and carrots. Dice the onion and grate the carrots on a coarse grater (or cut into thin strips). Boil the kettle.
Preheat a frying pan, pour in vegetable oil. Put onions and carrots in hot oil, sauté in vegetable oil for 2-3 minutes, over medium heat.
Then add the tomato. Mix everything. Simmer for 1-2 minutes.
Then pour in vinegar, boiling water, add sugar, salt, pepper, bay leaf and cook a little (2 minutes). Pour the marinade over the fish. Simmer for 5-10 minutes.
Refrigerate. Place the marinated fish in the refrigerator for 2-3 hours. Fried fish with marinade sauce is ready.

Serve chilled fried fish under marinade, you can with your favorite side dish.
Enjoy your meal!
Also Like
Comments for "Fried Fish with Vegetable Marinade"