Fried Rice with Pork
by Editorial Staff
A traditional Chinese dish will appeal to lovers of savory and spicy dishes – rice, pork, soy sauce and vegetables go well with each other. I recommend the pork fried rice recipe!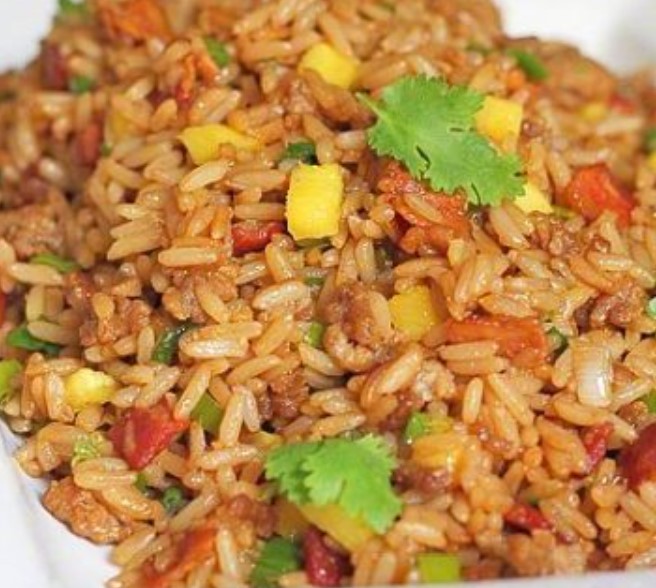 Cook: 1 hour
Servings: 3-4
Ingredients
Soy Sauce – 60 Milliliters
Beijing sauce – 1
Rice vinegar – 1 Tbsp. the spoon
Sugar – 1 Teaspoon
Bacon – 5-6 Slices
Minced pork – 300 Grams
Boiled rice – 3-4 Glasses
Pineapple – To taste
Ginger – 1 Tbsp. the spoon
Garlic – 2-3 Cloves
Green Onions – 1 Bunch
Sesame oil – 1
Red Hot Pepper – To taste
Greens – To taste
Directions
Prepare the herbs and garlic first. Cut the onion into small pieces. Chop the ginger and garlic, you can do it through the garlic press.
Cut the pineapple into cubes, chop the cilantro greens.
In a small bowl, combine the soy sauce, Beijing sauce, sugar, and rice vinegar.
Then cut the bacon into cubes and sauté it in sesame oil. You can then remove excess fat with a paper towel, or drain.
Put the minced pork to the bacon, stir it with a spatula so that it evenly separates.

Stir and fry until tender.
Add the white part of the green onion, as well as the ginger and garlic. Fry for a couple more minutes.
Then add rice and stir.
Pour in the prepared sauce and cook until evaporated.
Finally add pineapple, green onions and cilantro.

Stir, cook for another minute – and turn off the heat.
It is best to serve fried rice with pork hot and hot.
Bon Appetit!
Also Like
Comments for "Fried Rice with Pork"