Gazpacho with Watermelon
by Editorial Staff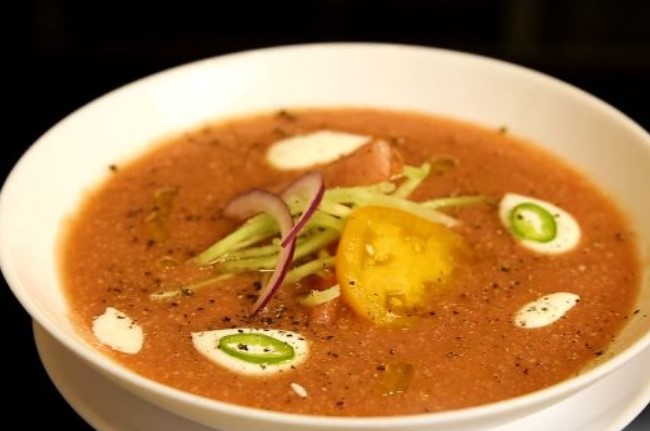 Gazpacho with watermelon is a great cold soup for a hot summer day.
Ingredients
Watermelon (pulp) – 1 kg
Medium tomatoes – 2 pcs.
Small cucumbers – 3-4 pcs.
Blue onion (medium) – 1/2 pc.
Hot peppers – 1 pc.
Peeled almonds – 60 g
Wine vinegar – 2 tbsp
Olive oil – 3 tbsp + to serve
Greek yogurt – to taste
Salt to taste
Ground black pepper – to taste
Directions
Cut the rind off the watermelon and coarsely chop the pulp of the watermelon, removing the seeds.

Chop the tomatoes coarsely, removing the hard white center.
Peel the cucumbers and chop coarsely.
Peel hot peppers and chop coarsely. Cut half of the onion into several large pieces.
Combine all vegetables with watermelon, salt and pepper.
Stir and leave for about an hour.
Fry the almonds in a dry frying pan.
Add almonds to the bowl with vegetables and watermelon.
Use a blender to puree everything.
Add olive oil and wine vinegar and stir.

Place the gazpacho and watermelon in the refrigerator for at least 2 hours
Add Greek yogurt, some olive oil and black pepper to a bowl of cold tomato soup. Garnish the gazpacho with chopped vegetables and watermelon if desired.
Enjoy your meal!
Also Like
Comments for "Gazpacho with Watermelon"