Green Asparagus Soup
by Editorial Staff
Delicate, with a delicate taste, asparagus soup is prepared quickly and easily. It's time to cook it in the summer when the asparagus harvest season is in full swing. However, asparagus is sold all year round, so the recipe is always up to date.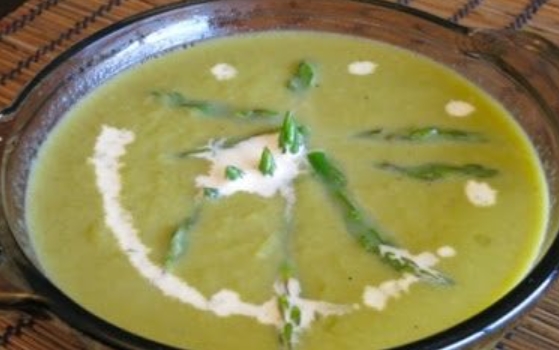 Servings: 3-4
Cook: 45 mins
Ingredients
Asparagus – 500 Grams
Onion – 1 Piece
Butter – 20 grams
Cream 33% – 0.5 Cups
Lemon juice – 1 Tbsp. the spoon
Broth or Water – 2 Glasses
Salt – 0.5 Teaspoons (to taste)
Ground black pepper – 1-2 Pinch (to taste)
Directions
Peel the onion and cut it into cubes.

In the saucepan in which we will cook the soup, melt the butter and lightly fry the onion for 3-4 minutes.

Cooking asparagus. Cut off the rough ends and discard them. Cut off several tops to decorate the finished soup.
Cut the asparagus into pieces of one and a half to two centimeters and send them to the pan to the onion. Salt and pepper immediately and fry for 5 minutes, stirring occasionally.\
Then add broth or water to the saucepan, bring to a boil and leave to simmer over low heat for 20 minutes under a closed lid. The asparagus should be soft.
While the soup is cooking, prepare the set asparagus tops. Boil them in lightly salted water for 3 minutes.
Then we immediately dip it into ice water. This way they will retain their color.
Turn the finished soup into mashed potatoes with a blender. Add lemon juice and cream. Mix thoroughly and taste. add salt and pepper if necessary. Bring to a boil and remove from the stove.
Enjoy your meal!
Also Like
Comments for "Green Asparagus Soup"