Irish Soda Bread
by Editorial Staff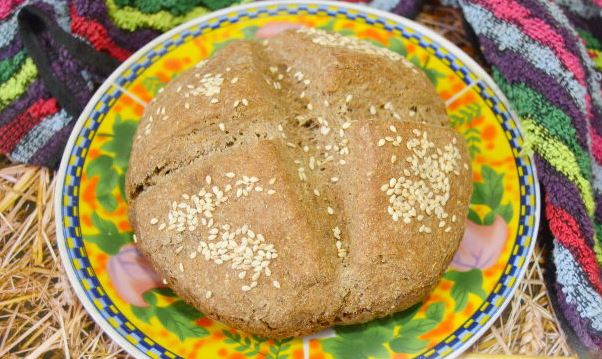 This homemade bread recipe struck me as curious by two factors – the combination of different flours and the fact that bread is made with soda, without yeast. There are four types of flour in this yeast-free bread – wheat, rye, linseed, and whole grain, which is the most, which makes the bread very useful.
Cook: 1 hour
Servings: 4
Ingredients
Kefir – 150 ml
Egg – 1 pc.
Soda – 0.75 teaspoon
Sea salt – 0.75 teaspoon
Sugar – 0.5 teaspoon.
Whole grain flour – 125 g
Rye flour – 25 g
Flaxseed flour – 25 g
Wheat flour – 25 g
Sesame seeds – 1 teaspoon
Sunflower oil – 1 teaspoon.
When preparing ordinary wheat flour, the most useful part of it is separated from the grain – the shell. In whole grain flour, this is not done, which means that such flour retains more nutrients.
Directions
Combine four types of flour in a bowl. Add an egg to kefir, dissolve salt, sugar, and soda. Combine dry ingredients with kefir.

Mix and knead the bread dough with kefir and soda. You can knead directly in a bowl, or you can knead on the table. The dough should be elastic.
Let's give the dough the shape of a ball, slightly flatten it. Put on a baking sheet or in a baking dish, lightly grease the baking sheet with sunflower oil. Make cross-shaped cuts in the center, sprinkle with sesame seeds.
We will bake yeast-free bread on soda in a preheated oven at 180 degrees for 25-30 minutes. Check the readiness of the bread with a wooden skewer.
Cool the finished homemade bread, cut it, and serve. As you can see, the Irish soda bread turns out to be quite dense, but at the same time soft and tender. The bread tastes neutral, so this yeast-free bread will suit literally anything.
Also Like
Comments for "Irish Soda Bread"