Okroshka on Soda
by Editorial Staff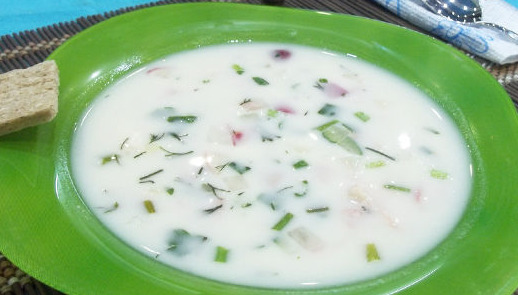 I propose to cook okroshka on soda, with sour cream. Perhaps this will surprise someone, but it is very tasty, especially if the water is cold.
Ingredients
Potatoes – 5 pcs.
Eggs – 6 pcs.
Cucumbers – 4 pcs.
Radish – 200 grams
Smoked chicken leg – 400 grams
Green onions – a bunch
Parsley greens – a bunch
Sour cream – 400 grams
Carbonated water – 2.5 liters
Salt to taste
Citric acid – to taste
Directions
This recipe is simple to the point of banality. Boil the potatoes in their skins in salted water. Then let it cool, peel, cut into cubes, and put in a saucepan.
Boil the eggs for 10 minutes to a steep consistency, put them in cold water to cool, peel the shells, cut them into cubes, and send them into a saucepan after the potatoes.
Wash the cucumbers, cut off the butts, cut into cubes, and place with the potatoes with eggs.
Wash the radish, cut off the tails, cut into pieces of the same size as all the ingredients, and send to the pan.
Wash the green onion, chop it, and put it in a saucepan.
Wash the parsley, cut it, and send it after the onion.
Separate the chicken leg from the bones, cut, and add to all products.

Now it remains to fill our dish. Pour sour cream, add salt, citric acid, pour cold sparkling water, stir and serve.
Enjoy your meal!
Also Like
Comments for "Okroshka on Soda"