Kebabs in Ginger and Onion Marinade
by Editorial Staff
I am sure that you will like beef kebabs cooked in ginger and onion marinade. This is delicious!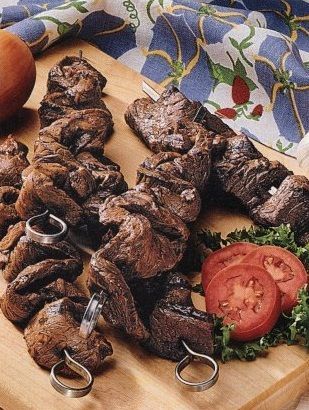 Ingredients
Beef fillet – 900 g
Soy sauce – 1/2 cup
White wine vinegar – 1/4 cup
Brown sugar – 2 tbsp
Onions (finely chopped) – 2 tbsp
Vegetable oil – 1 tbsp
Garlic (minced) – 1 clove
Ground ginger – 1/2 teaspoon
Ground black pepper – 1/8 teaspoon.
Directions
Remove fat from fillets, if any. Cut the meat into strips approximately 1.5 cm wide. Place the fillets in a plastic bag with fasteners.
In a separate bowl, prepare the beef kebab marinade. Combine soy sauce, vinegar, brown sugar, onions, vegetable oil, minced garlic, ginger and black pepper.
Pour the marinade into a bag of meat and mix well. Fasten the bag and put in the refrigerator for 2-3 hours.
Turn on the grill to preheat to medium heat.
Remove the meat from the marinade and string on metal skewers.
Place the kebabs on the grill rack and cook the beef kebab, turning occasionally, for 7-10 minutes, until medium cooked.
Serve hot beef kebabs with vegetables.
Also Like
Comments for "Kebabs in Ginger and Onion Marinade"