Shish Kebab in Onion Marinade
by Editorial Staff
How not to overdry, not overcook the meat for a barbecue? How to cook at the same time rosy, crispy and juicy, tender kebab? Answers to questions and two types of kebab marinade are in this recipe.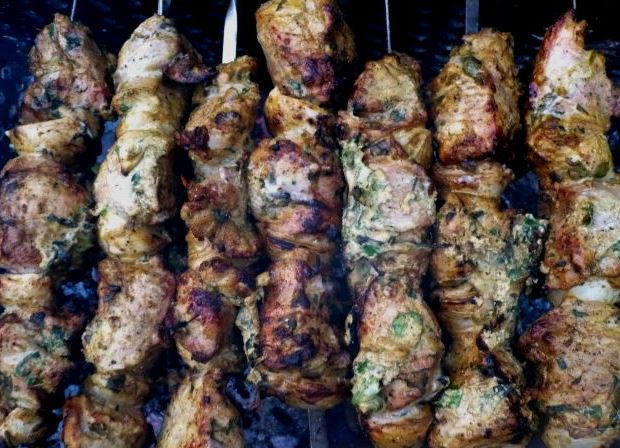 Ingredients
Meat – 2.5 kg
Large onions – 1 kg
Fresh basil – 1 bunch
Fresh parsley – 1 bunch,
Salt – 2.5 teaspoon
Vegetable oil (olive or other) (or mayonnaise, wine or apple cider vinegar) – 0.5 l
Pepper
Bay leaf
Spice.
Directions
You will need 7-8 large onions. They should be cut like an apple into three pieces. Then separate the large feathers from the core.
Large chunks of onion are used to string the kebabs onto skewers, and the core will go to the marinade. Onions sliced ​​in this manner will cook through rather than burning like rings. In addition, it will help to bake, and not fry the meat, which will make the meat inside soft and juicy.
The base of the sauce in which the meat will be marinated is obtained by transferring the onion core through a food processor. The sauce is also based on finely chopped fresh basil and parsley.

Regular marinade:Pepper, olive oil (however, others will work too), salt are added to the base of the sauce. Everything is thoroughly mixed.
Then each piece of meat is dipped in sauce and set aside to marinate.
Emergency Marinade:It differs in that instead of butter, the shish kebab is marinated in mayonnaise with an equal proportion of apple cider vinegar or wine. Plus bay leaves and spices are added to taste. In this case, an hour is enough for marinating.

When cooking, the kebab should be covered so that high humidity remains in the grill, this will prevent the meat from burning. When turning the kebab every 5-10 minutes, it must be moistened with a brush with the remnants of the marinade, which will also add flavor to the kebab.
Enjoy your meal!
Also Like
Comments for "Shish Kebab in Onion Marinade"