Shish Kebab with Chifir
by Editorial Staff
Chifir (very strong black tea) in this recipe will act as a marinade for pork kebab. Thanks to this marinade and carbonated water, the meat will become very tender, and the onions and spices will make the pork kebab very aromatic.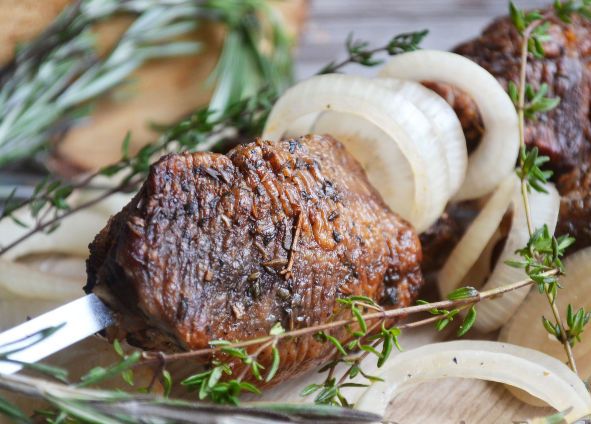 Ingredients
Pork – 3 kg
Sparkling water – 1 l
Loose black tea – 100 g
Onions – 1 kg
Fresh rosemary – 1 sprig
Fresh thyme – 2 sprigs
Water (for making tea) – 1 l
Basil – ½ teaspoon
Oregano – 1/2 teaspoon
Marjoram – ½ teaspoon.
Ground black pepper – 1 tbsp
Salt to taste
Directions
Wash the meat thoroughly, dry it and cut into slices 7-10 cm thick.

Put the meat in a deep container and fill it with sparkling water so that it covers the meat. Cover and set aside for 5 hours or overnight.
Boil water (1 liter) and pour it over the entire pack of black tea. We leave aside and let the tea brew to make the chifir. Cool and filter the finished chifir.
Drain the carbonated water from the meat and pour in the chifir. Mix and set aside for 3 hours.

After 3 hours, drain the chifir. We add all the spices.
We peel the onion from the top husk and cut into large rings.
Mix onion rings with meat. Let it brew for 2-3 hours so that the onion juices soak the meat. Add the rosemary and thyme.

After the specified time, we string the kebab on skewers. Salt to taste.
Cooking shashlik in an electric grill for 40 minutes.
You can also grill barbecue in the oven, cooking time is about 1 hour. And, of course, nature, coals, heat, on which we cook for 30-40 minutes.
Pork shashlik with chifir is ready.
Also Like
Comments for "Shish Kebab with Chifir"