Shish-tauk (Chicken Kebab)
by Editorial Staff
Shish-tauk is a Lebanese dish, a kebab of chicken marinated with onions, lemon juice and spices. Juicy chicken skewers are tender in taste, melting in your mouth.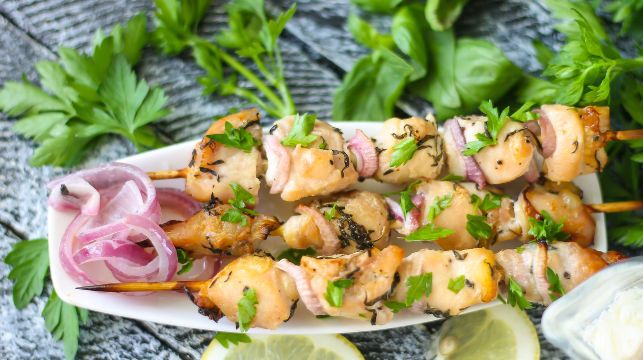 Servings: 3
Cook: 1 hour
Ingredients
Chicken fillet – 2 pcs.
Bulb onions – 1 pc.
Lemon juice – 2 tbsp
Vegetable oil – 50 ml
Salt – 0.5 teaspoon.
Dried thyme – 0.5 teaspoon
Sumakh – 0.5 teaspoon.
Ground cinnamon – 2 pinches
Ground black pepper – 3 pinches
Dried ground garlic – 0.5 teaspoon.
Fresh parsley – 0.5 bunch
Directions
To make Shish Tauk – Lebanese Chicken Kebab, prepare all the ingredients in advance.
Rinse the chicken fillet in water, cut off the films, veins. Scald the lemon with boiling water and roll it on the table with pressure so that more juice forms inside the citrus.

Cut the lemon over a deep dish, squeeze the juice out of the lemon. Add sumac, cinnamon, thyme, ground black pepper, salt there.
Cut the peeled and washed onions into rings and also an additional container. Pour in about 1.5 tbsp vegetable oil. Remember everything carefully with your hands.
Cut the chicken fillet into pieces and add to the container with the marinade. Stir and let the chicken marinate for 30 minutes at room temperature. Can be left in the refrigerator overnight.

After that, string the pieces of marinated chicken fillet on skewers alternately with onion rings. (It is advisable to soak wooden skewers in water so that they do not burn when frying kebabs.)
Grill chicken skewers over hot coals for about 15 minutes, or in an oven at 200 degrees for about 25-30 minutes, turning them over from time to time.

While the chicken skewers are fried, beat the dried garlic with the remaining vegetable oil and salt. Pour the resulting sauce into a gravy boat. Rinse the parsley and chop.
Serve shish tauk hot, with cooked sauce and chopped herbs.
Bon Appetit!
Also Like
Comments for "Shish-tauk (Chicken Kebab)"