"Kinder Slice" Pastries
by Editorial Staff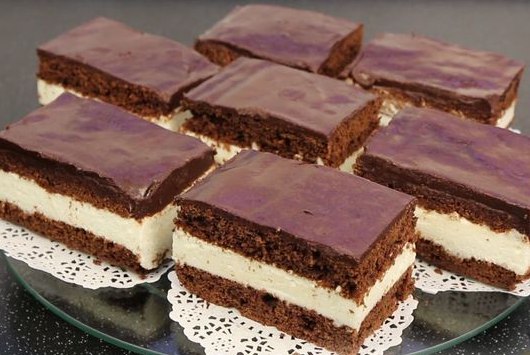 I suggest making cakes that taste like Kinder Milk Slice. It consists of two chocolate biscuits and one white layer of delicate soufflé. Dessert "Kinder" is made from milk, and in my version, I suggest making shortbread biscuits and cream soufflé based on sour cream. It will be delicious! Join us!
Cooking: 1 hour
Servings: 8
Ingredients
For cakes:
Butter (82% fat) – 130 g
Sour cream (21% fat) – 60 g
Egg – 1 pc.
Water – 60 ml
Sugar – 110 g
Flour – 180 g
Cocoa powder – 45 g
Baking dough – 5 g
Soda – 2 g
Salt – 1 pinch
Vanillin – 1 pinch
For the cream:
Sour cream (21% fat) – 400 g
Powdered sugar – 90 g
Gelatin – 8 g
Water – 60 ml
Vanillin – 1 pinch
For glaze:
Dark chocolate – 50 g
Butter – 30 g
Milk – 30 ml
Instructions
First, I'll make the chocolate crust. I have sour cream with a fat content of 21%, butter – 82%. All liquid ingredients, including butter, must be at room temperature. Sift flour, cocoa, baking powder, and baking soda.
Combine flour, cocoa, baking powder, and soda, mix and set aside for now. Preheat the oven to 170 degrees. Beat the softened butter with salt, vanilla, and sugar until white. Add an egg at room temperature and beat until smooth for 1-1.5 minutes. Add sour cream (room temperature) and beat again until smooth. You should get a lush, airy mass.
Combine dry ingredients with butter and sour cream mixture. I stir. The dough will be quite thick and sticky. But you still need to add water. Heat the water to a hot state and pour it into the dough. Mix well.
Bake one large cake, then cut it in half. I will bake the cake in a detachable rectangular mold measuring 22×36 cm. I covered the bottom of the mold with foil. I do not advise you to bake one tall cake and then cut it into two thin ones, as the cakes are sandy-biscuit and will crumble when cut.
Gently level the dough in a mold so that the layer is even (it is very convenient to do this with a spoon like this). Send the form with the dough to the oven, preheated to 170 degrees, for 15-17 minutes. Do not overexpose the cake, otherwise, it will be dry and loose.
When pressed, the finished cake will spring. It turns out something between a biscuit and a shortcrust pastry. Let the cake cool completely and then rest a little, cover it with cling film so that the cake does not dry out. Then remove the form, foil and divide the cake into 2 equal parts. While the cream is being prepared, it is better to wrap the cakes in a bag or cling film so that they do not dry out.

For the cream, you will need sour cream (I have a fat content of 21%), powdered sugar, vanillin, gelatin, and water to soak it. Combine gelatin with water, mix and let it swell. Whip sour cream with powdered sugar and vanilla. The mass will turn white and be permeated with air bubbles. It took me 7-8 minutes. Carefully, do not over-beat.
Swollen gelatin must be melted (heated, but not boiled). Mix well so that all the crystals bloom. Add gelatin to the whipped sour cream. Beat a little more. At first, the mass will be liquid, but then the cream will thicken. You can put it in the refrigerator, but the main thing is not to miss the moment. For me, while I was preparing the mold and cake, the cream thickened noticeably even at room temperature.
Collect the cake (future cakes) in the same form in which the cake was baked. I covered the bottom of the mold with cling film. The cake must be in contact with the walls of the mold so that the cream does not spread. Carefully stack the cake. I pour all the cream on top at once. Smooth out the cream and put the second cake. Put it in the refrigerator for stabilization.
Cover the top with glaze, but this is optional. For the glaze, you need chocolate (mine is dark), butter, milk. You can add sugar if desired. Connect everything and melt it in the microwave in short pulses of 30 seconds. Do not overheat: when the butter melts, that's enough. Mix everything well. Such a uniform glossy glaze should be obtained. Let her cool slightly.
Fill the cooled future cakes with icing (or maybe you want them to remain cake), distribute evenly. Send the cake back to the refrigerator to stabilize.
And only when everything cools well, the cream and glaze stabilize, take it out of the mold.
You can leave it with cake… Or you can cut it into cakes.

Saturated chocolate shortbread biscuit cakes, tender sour cream soufflé with light sourness, and chocolate glaze.
Delight!
Also Like
Comments for ""Kinder Slice" Pastries"