Lightly Salted Mackerel Snack
by Editorial Staff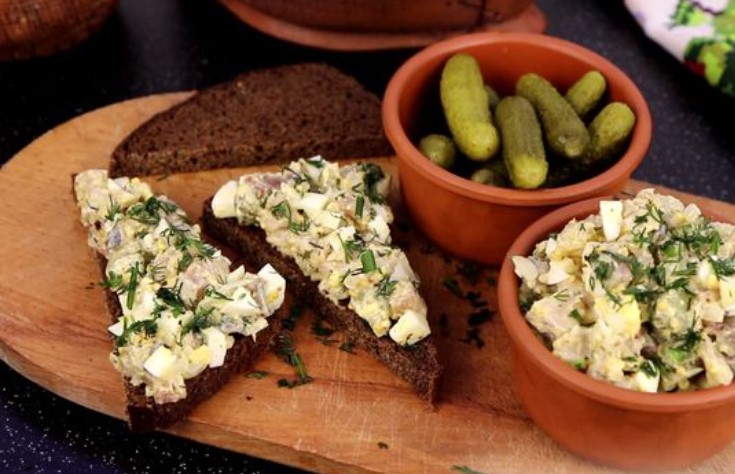 I am sharing a recipe for an original and very easy-to-prepare snack based on lightly salted fish. It can be both mackerel, herring or red fish. In combination with crispy cucumbers and an unusual dressing, you get a gorgeous salad appetizer. Try it. I hope you enjoy it as much as I do!
Cook: 7 hours 30 mins
Servings: 5
Ingredients
For a snack:
Lightly salted fish – 140 g
Pickled cucumbers – 50 g
Boiled eggs – 2 pcs.
Pickled onions – 30 g
Fresh chopped dill – 1 tbsp
Mustard sauce – 2-3 tbsp
For pickled onions:
Onions – 30 g
Water – 5 tbsp
Vinegar (apple cider) – 2 tbsp
Salt – 1 teaspoon
Sugar – 2 tbsp
For mustard sauce:
French mustard (beans) – 30 g
Honey – 15 g
Salt – 2 pinches
Vegetable oil – 30 g
Directions
I start with pickled onions. It will need half a medium onion. I clean, cut into small cubes.
In a glass I combine water at room temperature, vinegar, salt and sugar. Stir until the sugar and salt are completely dissolved, pour in the onion. I leave it for 15-20 minutes.
For the mustard sauce, I use whole grain mustard (French or Dijon). I add honey, salt, vegetable oil to it and punch with a submersible blender. The sauce is ready. Mustard sauce can be substituted for 1 tablespoon. bavarian mustard and 2 tablespoon. vegetable oil.
These are all the ingredients you need. Nothing fancy, everything is simple and fast. The only clarification is that you can use lightly salted fish what you like: mackerel, herring or red.

For the snack itself, I cut the fish (fillet) into a not very small cube.
Eggs.
Pickles.
I connect everything, there is dill and sauce. Salt and pepper as needed.
I close it with cling film and put it in the refrigerator overnight, or better – a day.

A fragrant and delicious snack is ready!
Serve as a salad, appetizer or sandwich.
Bon appetit and festive mood!
Also Like
Comments for "Lightly Salted Mackerel Snack"