Marshmallows on Orange Juice
by Editorial Staff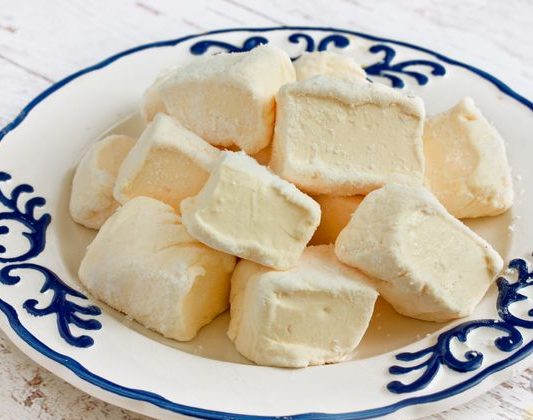 Marshmallows are soft chewy marshmallows that are easy to make at home. This requires a minimum of ingredients and some free time. Today we will cook marshmallows, but not simple ones, but with orange juice!
Ingredients
Orange juice – 60 ml
Sugar – 110 g
Instant gelatin – 5 g
Lemon juice – 0.5 teaspoon
Powdered sugar – 0.5 tbsp
Corn starch – 1 teaspoon
Sunflower oil (for lubricating the mold) – 1 teaspoon
Directions
Prepare all the ingredients you need.
Pour over instant gelatin with 30 ml of orange juice. Stir.
Leave the gelatin for 5 minutes to swell.
Combine sugar and remaining orange juice in a saucepan or saucepan.
Place a saucepan with juice and sugar on the stove. Let the sugar dissolve, then bring the syrup to a boil and immediately remove it from the stove.
Dissolve the gelatin with orange juice in a water bath.
Pour hot gelatin into a bowl.
Whisking gelatin with a mixer, pour all the hot orange syrup into it in a thin stream. Also, add lemon juice to balance the sweetness.
Beat the mixture until a white, thick, airy mass is obtained. If desired, you can add a couple of drops of orange dye to this mass.
Prepare the mold: line it with cling film and brush with a little sunflower oil. My mold is 10×15 cm. Put the marshmallow mass into this mold.
Cover with the overhanging plastic wrap and refrigerate for about 1 hour or until the marshmallows harden.
Mix the icing sugar and starch. After a while, remove the orange juice marshmallows from the mold and place them on a work surface, sprinkled with a mixture of powdered sugar and starch. Sprinkle the marshmallows with starch and powder on top.
Use a sharp knife to cut the marshmallows into small square or rectangular pieces. Dip the marshmallows in the powdered sugar and starch mixture so they don't stick to each other.
Orange Marshmallows are ready!
Bon Appetit!
Also Like
Comments for "Marshmallows on Orange Juice"