Meat "Pie" "Tea Rose"
by Editorial Staff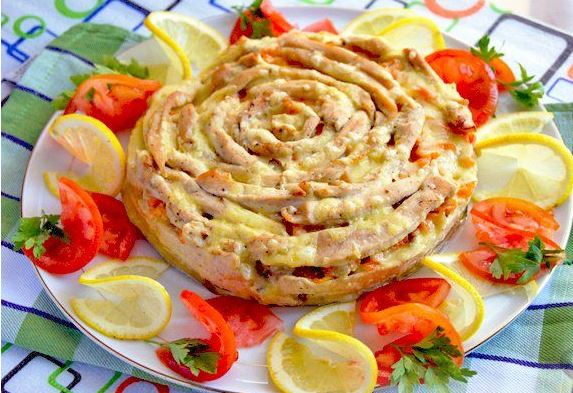 I cooked a delicious casserole. True, this pastry has little resemblance to a pie … Now I'll tell you why … But first, everything is in order …
Ingredients
Chicken breast – 3-4 pcs.
Juice of half a large lemon
Bulb onions – 1 pc.
Pickled mushrooms – 1 jar
Carrots – 3 pcs.
Cream – 3-4 tbsp
Vegetable oil (olive) – 3-4 tbsp
Hard cheese – 150 g
Salt
Black pepper
Nutmeg
Directions
The first step is to marinate the meat. The recipe requires 2 chicken breasts, I took 3 and it was not enough for me. I think 4 or even 5 would be just right.
Cut into thin strips, put in a deep plate (bowl).
I took the juice of half a lemon because I had it big. And for such a case I bought nutmeg (powder). I took 25 grams. Well, to be honest, nothing special. I can't even imagine why such money should be paid for it, coriander smells much nicer.
Squeeze lemon juice into a plate, add salt, pepper, nutmeg.
Stir, crush and leave to marinate.

Meanwhile, boil the carrots.
Then finely chop the onion, and I took the chopped mushrooms.
Pass the onion in vegetable oil.
Add mushrooms, fry a little.
Then add the cream.

Stir and simmer a little.
Lubricate the form with vegetable oil (I have a 20 cm disposable form).
We put the strips of meat on the bottom and on the sides (I should have laid it tighter).
Sprinkle with grated cheese (more cheese would also be needed).

We spread the cooled mushrooms.
Grate boiled carrots on a coarse grater.
Place the carrots on top of the mushrooms.
On top, we put pieces of the remaining meat in a spiral (here I did not have enough meat, I need to lay it very tightly).
We put the meat "pie" in the preheated oven. We bake at 200 C for 30 minutes. The pie will give a lot of juice, so after 30 minutes drain the juice.
And sprinkle the joints of the pieces of meat with cheese.
Put the meat pie in the oven again. Let the cheese melt and lightly brown. Leave in the form for 10 minutes and transfer the meat "pie" to the dish.

We all liked the casserole. But I did not have enough garlic there, and potatoes for the children. So you can boil the potatoes separately.
Enjoy your meal!
Also Like
Comments for "Meat "Pie" "Tea Rose""