Minecraft Cake
by Editorial Staff
Minecraft Cake is a cake based on the popular computer game. A delicious gift for a gamer or child who is fond of this game. Here's how to make a Minecraft cake at home!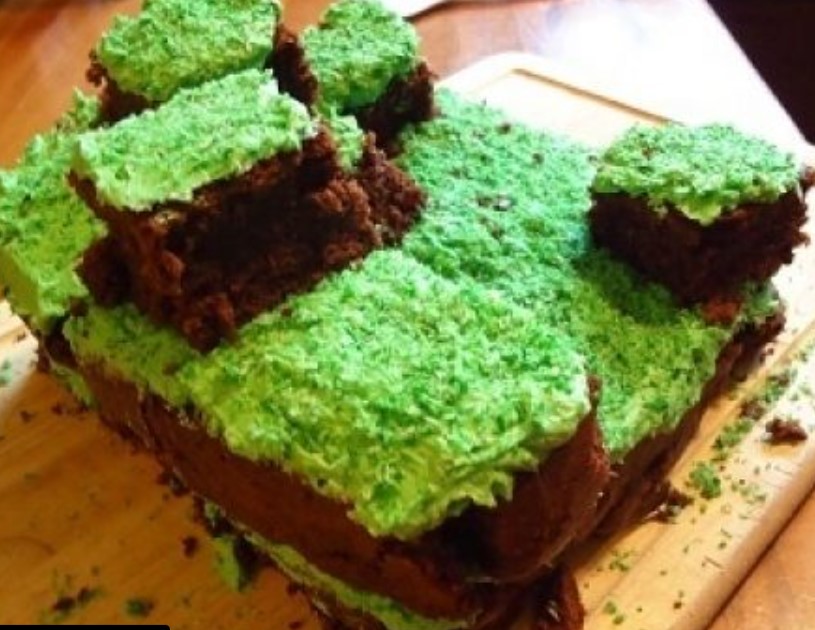 Cook: 2 hour
Servings: 12
Ingredients
Flour – 3 Glasses
Cocoa powder – 5 tbsp
Baking powder – 2 Teaspoons
Butter – 700 Grams (500 – in the dough, 200 – in the cream)
Vanilla extract – 2 Teaspoons
Eggs – 8 Pieces
Sugar – 2 Glasses
Powdered Sugar – 2 Glasses
Food Coloring – 1/8 Teaspoon
Coconut flakes – 3 Art. spoons
Directions
In a large bowl, combine 500 grams of butter and sugar. Beat with a mixer until smooth, creamy.

Add flour, baking powder, cocoa powder and eggs. Beat with a mixer until smooth.
A homogeneous mixture after whipping should look something like this.
Cover the baking sheet with baking paper, carefully transfer half of the dough into it. We bake the biscuit for 30 minutes at 180 degrees. In the same way, bake the second biscuit from the remaining half of the dough.
In the meantime, beat the icing sugar with 200 gr. butter until smooth, creamy. Introduce a little green food coloring into a homogeneous mass.
Beat at a slow speed until the mixture turns green.
To simulate the texture of the grass from the game Minecraft, add a little dye to the coconut. We mix.
When the finished biscuits have cooled to room temperature, you can shape the cake. Spread green cream on the biscuit with a thick layer.

Put the second on the first biscuit, grease it with the second half of the green cream and sprinkle with green coconut flakes. For realism, we cut the cake into cubes, like in the game Minecraft.
We create a composition from the cake cubes, as in the game Minecraft. Voila!
Bon appetit!
Also Like
Comments for "Minecraft Cake"