Oat and Almond Cookies with Coconut Milk
by Editorial Staff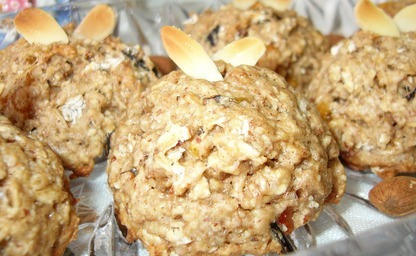 Very tender biscuits with a crispy thin crust and soft airy inside. The traditional taste of oatmeal cookies is complemented by almonds and a light, subtle, coconut milk aroma. This cookie is perfect for home family tea drinking, not only in fasting but also gives a good mood and energizes, thanks to its composition. In literally half an hour, you get 20 delicious and healthy cookies.
Cook: 35 minutes
Servings: 10
Ingredients
Oatmeal flakes (not requiring cooking, TM "Mistral") – 80 g
Almonds (whole) – 100 g
Wheat flour / Flour – 200 g
Coconut milk – 200 ml
Dried apricots – 70 g
Prunes – 70 g
Brown sugar (TM "Mistral") – 100 g
Baking dough (with a slide) – 1 teaspoon.
Cinnamon (ground) – 1 teaspoon
Vegetable oil (3 tablespoon for the dough, 1 tablespoon for lubrication) – 4 tbsp
Almonds (petals-for decoration-optional)
Directions
Finely chop the prunes and dried apricots (everything is soft, if necessary, soak beforehand).
Grind the almonds in a blender until flour.
Pour flour mixed with baking powder, cinnamon, chopped almonds, oatmeal, which does not require cooking, into a bowl.
Add brown sugar.
Mix everything until smooth.
Add finely chopped dried apricots and prunes and mix well again.
Lightly beat coconut milk and vegetable oil with a fork and pour into the resulting dry mixture.
Mix everything well until smooth.
Turn on the oven 180 degrees. Cover a baking sheet with baking paper and grease it with vegetable oil.
Then you can form cookies with a tablespoon dipped in water. And I, recently, really liked the method of forming with the help of an ice cream spoon. The cookies remain round and do not lose their shape. We take the dough with a spoon, periodically moistening it in water, and spread it on a baking sheet, leaving a distance between the cookies.
Garnish with almond petals if you wish. Bake for 20 minutes. Then take it out, cover it with a towel and let cool slightly. Then I put it in a plastic container for storage so that it does not dry out.
Enjoy your meal!
Also Like
Comments for "Oat and Almond Cookies with Coconut Milk"