Oatmeal with Banana and Whipped Egg Whites
by Editorial Staff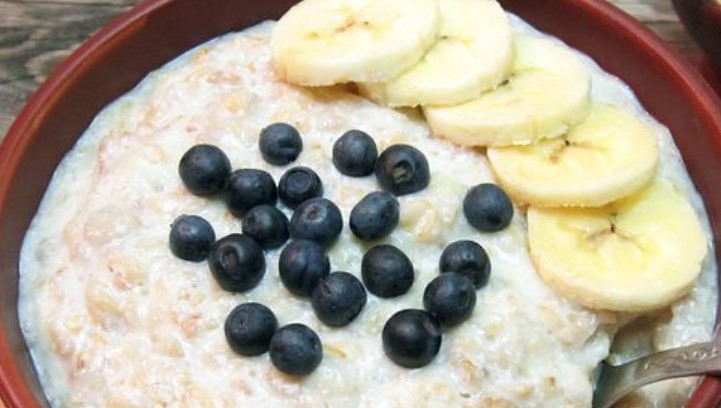 A delicious, correct, and balanced breakfast that will provide the body with energy for a long time. The whipped protein gives the oatmeal a special fluffiness, lightness, and delicate texture.
Ingredients
Oat flakes – 120 g
Milk – 700 ml
Bananas – 3 pcs. (540 g)
Eggs – 3 pcs.
Sugar – 30-40 g
Salt – 1 pinch
Blueberries (for serving) – 80 g
Directions
Peel two bananas (325 g) and cut into small cubes. Save the third banana for serving.

Fill the bananas with milk. Add sugar and a small pinch of salt there.
We put the pan on high heat and, stirring often, bring to a boil.
As soon as the milk with banana boils, add the oatmeal.
Reduce heat to low and cook porridge for about 10 minutes until thickened. In this case, the porridge must be stirred very often so that it does not burn.
Separate the whites from the yolks. Beat the whites with a mixer until lather for about 1 minute.
Add the whipped egg whites to the porridge and stir everything intensively for a minute. In this case, the fire should be minimal (the porridge should almost not boil) so that the proteins do not curl.
Then remove the pan from the heat, cover, and leave for 5 minutes.
Oatmeal with protein and banana is ready.
Put the oatmeal on the plates. Decorate with banana slices and blueberries.
Enjoy your meal!
Also Like
Comments for "Oatmeal with Banana and Whipped Egg Whites"