Omelette, Cheese and Avocado Snack
by Editorial Staff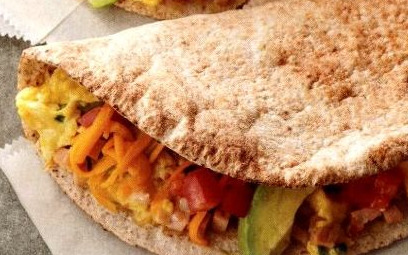 I make an omelet and serve in bread cakes with cheese and avocado.
Ingredients
Eggs (slightly beaten) – 4 pcs.
Bacon (chopped) – 90 g
Water – 3 tbsp
Green onions (chopped) – 2 tbsp
Salt – 1/8 teaspoon.
Odorless vegetable oil
Pita (flat unleavened bread) – 4 pcs.
Cheddar cheese (shredded on a grater) – ½ cup
Avocado (cut into thin slices) – 1 pc.
Hot sauce (optional)
How to make an omelet snack:
Directions
In a medium bowl, lightly beat eggs and water, add bacon, green onions, and 1/8 teaspoon of salt.
Sprinkle a large skillet with vegetable oil and heat over medium heat. Pour the beaten eggs into a preheated frying pan and cook, without interfering, until the eggs set. Using a spatula, gently turn the eggs (in small portions), cook, for a couple of minutes. Remove the pan from the stove.
Put scrambled eggs on the pita bread, sprinkle with cheese, and layout the avocado slices. Sprinkle a few drops of hot sauce over the omelet snack if desired. Serve the pita and omelet appetizer immediately.
Enjoy your meal!
Also Like
Comments for "Omelette, Cheese and Avocado Snack"