Pita with Minced Meat Cutlet with Mushrooms and Bell Peppers
by Editorial Staff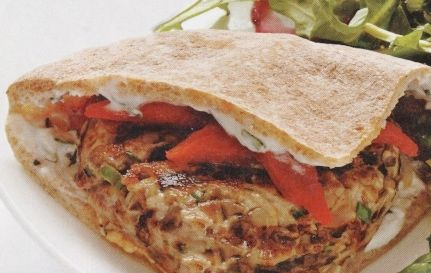 Pita with grilled minced meat cutlet with mushrooms, fried bell peppers and yogurt, and feta sauce.
Ingredients
Pita – 1 pc.
Minced pork – 300 g
Champignons – 75-100 g
Sweet pepper (fried) – 2-3 pcs.
Green onions – 4 pcs.
Garlic – 1 clove
Fresh rosemary – 1-2 sprigs
Yogurt – 1/3 cup
Feta cheese (shredded) – 3 tbsp
Salt – 0.25 teaspoon
Ground black pepper – 1/8 teaspoon
Directions
Finely chop the champignons. Cut green onions into thin rings. Chop the garlic. Finely chop the rosemary.
In a large bowl, combine the minced meat, mushrooms, and green onions. Drizzle and pepper, mix thoroughly.
Divide the mixture into 4 portions and form 2 cm round patties.
Fry the cutlets on the grill, covered, for 14-18 minutes. Turn the patties 7-8 minutes after the start of cooking.
Mix yogurt, feta, garlic, and rosemary.
Cut the fried (grilled) bell peppers into thin strips.
Cut the pita into quarters, brush the inside with yogurt sauce. Place the minced meat cutlet with mushrooms and bell peppers in each quarter of the pita.
Enjoy your meal!
Also Like
Comments for "Pita with Minced Meat Cutlet with Mushrooms and Bell Peppers"