Pork Loin on the Bone (on the Grill)
by Editorial Staff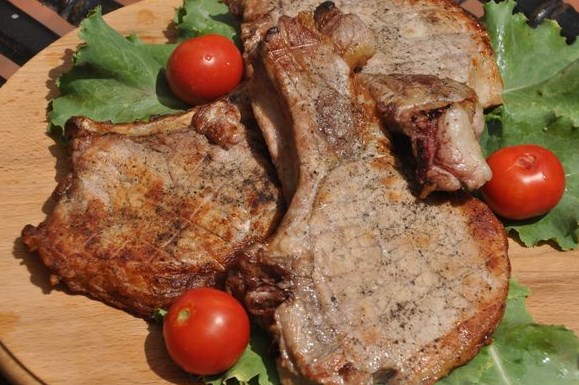 A wonderful meat dish on the grill – pork loin on the bone. It is believed that it is the bone that gives the meat its extraordinary flavor. The pieces of meat are thickly sliced, to the width of the bone, which ensures their juiciness. In order to fully feel the special, unique taste of the meat itself, we will not marinate it, but only season it a little with spices.
Cook: 40 mins
Servings: 3
Ingredients
Pork loin on the bone – 1 kg
Sunflower oil – 2 tbsp
Salt to taste
Ground black pepper – to taste
Directions
Wash the pork loin, dry it, and cut into portions with one rib bone. I got three pieces of meat on the bone.
We beat each piece of meat with a rolling pin with light and careful movements so that later the fibers can be saturated with spices. Don't hit too hard or the fibers will break and the meat will release juice! Salt and pepper each piece of pork on both sides. Let the pork brew for 5 minutes.

We fill up the charcoal on the grill and light the fire. When the coals are burned out, pour water over the fires so that there is no open fire.
Place the pork loin on the bone on the wire rack. Brush both sides of each piece of meat with sunflower oil. We send the brazier to the brazier.

Grill pork loin for about 30 minutes. Turn the meat rack every 5 minutes. Remove the grill from the barbecue. Serve on the bone grilled pork loin.
Enjoy your meal!
Also Like
Comments for "Pork Loin on the Bone (on the Grill)"