Pork Ribs in Honey-Garlic Marinade (Grilled)
by Editorial Staff
If you want to impress your loved ones, cook something very tasty and see a real delight, pork ribs in honey-garlic sauce – that's what you need! With fairly simple preparation, pork ribs in a honey-garlic marinade turn out to be very appetizing. Honey gives the meat a sweetish flavour and provides a golden-brown crust, and garlic – for the pungency of the dish.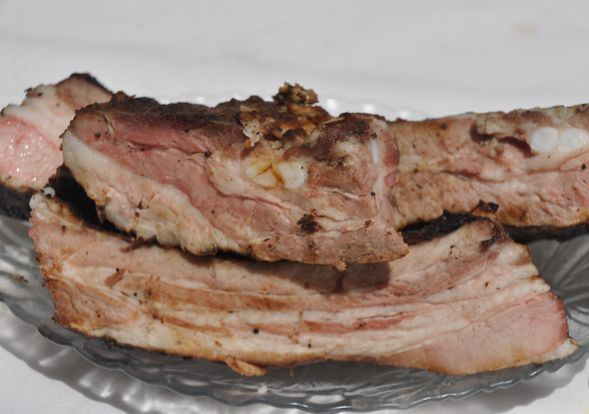 Servings: 3
Cook: 4 hours 10 mins
Ingredients
Pork ribs – 1 kg
Honey – 2 tbsp
Red wine – 50 ml
Garlic – 4 cloves
Sunflower oil – 2 tbsp
Barbecue seasoning – 5 g
Salt to taste
Ground black pepper – to taste
Directions
We wash the ribs under running water.

Peel and squeeze the garlic through a press.
Cooking the marinade. Pour wine and sunflower oil into a bowl, add honey, garlic, barbecue seasoning, salt and pepper. Mix everything and let it brew for 5 minutes.
Put the ribs in a bowl and combine them with the marinade. Thoroughly rub the marinade into the ribs and send them to marinate in the refrigerator for at least 3 hours. We turn the ribs every hour so that they are marinated on all sides.

We spread the ribs on the wire rack.
We put coal on the grill and kindle a fire. When the coals are burned out, pour water over the fires so that there is no open fire.
We send the grill with pork ribs in honey-garlic marinade on the grill.
Cook the ribs on the grill for about 50 minutes, turning the wire rack every 5 minutes. Remove the grill from the barbecue.

We serve the ribs to the table.
Also Like
Comments for "Pork Ribs in Honey-Garlic Marinade (Grilled)"