Grilled Pork Ribs
by Editorial Staff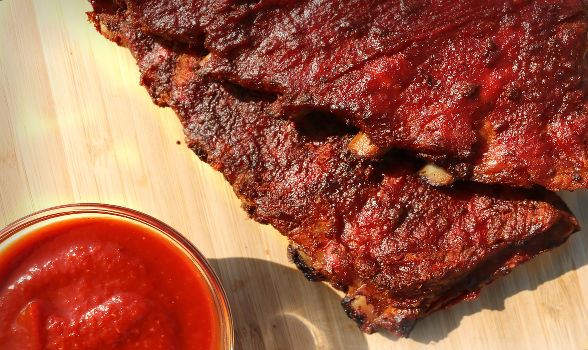 Great recipe for charcoal-grilled pork ribs. The trick of the recipe is that at the end of cooking, the ribs need to be smoked a little, and then glaze with barbecue sauce. As a result, they acquire an unsurpassed smoky taste. In addition, it takes almost 3 hours to cook them at a temperature of 150-170 degrees, so the ribs are very tender. Try it!
Ingredients
Pork ribs – 2 kg
BBQ sauce – 100 g
Ground paprika – 2 tbsp
Granulated garlic – 2 tbsp
Ground red hot pepper – 2 teaspoon.
Mustard powder – 3 teaspoon
Salt – 2 tbsp
Freshly ground black pepper – 2 teaspoon.
Directions
Mix 2 tbsp salt, 2 tbsp sweet paprika, 2 tbsp granulated garlic, 2 teaspoon. red hot pepper, 3 teaspoon. mustard powder, 2 teaspoon. freshly ground black pepper. Stir the spice mixture and set it aside.
Moving on to the ribs. First of all, we need to strip them, getting rid of excess fat. Next, we take a teaspoon and use it to remove the film from the inside of the ribs. We repeat these operations with all the pork ribs you have.
We put a mixture of spices on the ribs. We rub it in. We repeat this procedure on the back of the ribs. Leave the pork ribs to marinate for 30 minutes.

Preparing the grill for medium-indirect cooking. To do this, I put in a charcoal cutter and install a container into which the fat will drip. I pour out the coals. Installing the grill grate.
Place the ribs on the grill. We close the grill. Now our main task is to maintain the temperature regime in the range from 150 to 175 degrees for an hour. This is done with grill flaps.
After an hour, if necessary, add some fresh coals to the grill. We give them a couple of minutes to grab. Flip the ribs. Place the lid on the grill and leave the pork ribs on the grill for another hour in the same temperature conditions. After the specified time, open the grill. The ribs already look amazing, but I want to make them even better!

Flip the ribs a third time. Add a couple of handfuls of pre-soaked alder chips to give the ribs a smoky flavour. Leave the ribs to smoke for 30 minutes.
The next step is to apply barbecue sauce on both sides of the pork ribs. Leave the ribs on the grill for another 20 minutes. After that, they will be completely ready.
Bon Appetit!
Also Like
Comments for "Grilled Pork Ribs"