Borscht on Pork Ribs
by Editorial Staff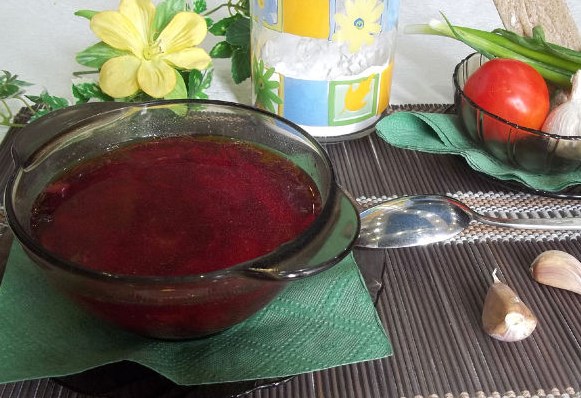 I bring to your attention – hearty, aromatic, appetizing, and delicious borscht on pork ribs.
Ingredients
Pork ribs – 1 kg (you can replace with any other piece of meat, however, the borscht is the most delicious on the ribs)
Beets – 150 grams
Cabbage – 100 grams
Potatoes – 3 pcs.
Tomatoes – 3 pcs. (any grade)
Onions – 1 pc. (medium size)
Celery root (dried)
Bay leaf – 5 leaves
Allspice peas – 5 peas
Garlic – 2-3 cloves
Vinegar – 1 tablespoon
Salt to taste
Ground black pepper – to taste
Directions
Wash pork ribs and cut into portions. Peel and wash the onions. Place the pork ribs, onions, allspice peas, bay leaf, and dried celery root in a saucepan. Pour in drinking water and send the pot of stock to the stove.

Now let's move on to the beets – peel them and grate them. Pour vegetable oil into a frying pan and heat. We send the beets to the pan, add a little water and vinegar. Then cover the skillet with a lid and simmer the beets, stirring occasionally. (Do not forget to add vinegar, it will not allow the beets to dry out, and the broth in which the beets will be stewed will acquire a burgundy color.) This will be a dressing for borscht.

Peel the potatoes, wash and cut into cubes. When the broth is almost cooked, we send the potatoes to a boil. In this case, remove the onion head and discard it. It was necessary that the onions only give their aroma and taste, which he did.
Wash the cabbage, chop, and send to cook after the potatoes.
When the potatoes and cabbage are boiling, add the stewed beets. After that, immediately wash and cut the tomatoes into cubes that you put in the borscht.

Peel the garlic and squeeze it through a press into the borscht. Season the borscht with salt and black pepper.
Cook all ingredients together for about 8 minutes and remove the saucepan from the heat. Let the borscht brew for about 10-15 minutes, then serve it to the table.
Also Like
Comments for "Borscht on Pork Ribs"