Pork Steak on Ribs
by Editorial Staff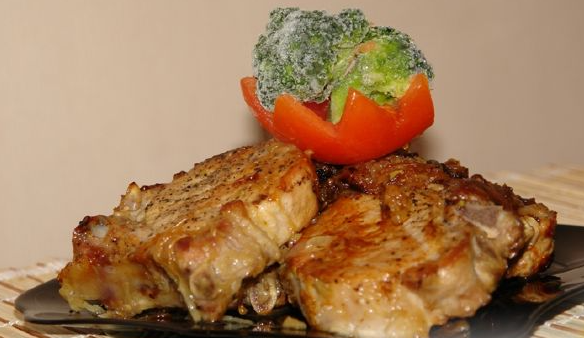 Pork ribs steak – men's dinner!
Cook: 1 hour 30 minutes
Ingredients
Steaks – by number of servings
Onions – 2 large heads
Tabasco spicy
Black pepper
Salt
Garlic
Meat broth – 50 ml
Directions
For each pork steak, 1 drop of Tabasco and black pepper. We leave for 30 minutes.
In a thick-bottomed frying pan, heat up 1 tablespoon. a spoon of olive oil, fry 2 chopped cloves of garlic in it until almost black, throw out the fried garlic. He has already given all his aroma to the oil. Fry each pork steak on both sides until crusty. Better to put in 2 at a time to keep the oil cool.
Transfer the steaks to a high skillet, add 50 g of broth, cover, and leave for 10-12 minutes. Then turn over, season with salt, leave for another 10 minutes. While the pork steaks are fried under the lid, in a pan with the remaining oil from the meat, fry the onion, cut into half rings. After the steaks are cooked on both sides, place the onions over them, cover the skillet with a lid, and turn on high heat until all the liquid has evaporated. We give the meat 10 minutes to rest and feed the husband! Tomatoes and broccoli for garnish.
Also Like
Comments for "Pork Steak on Ribs"