Pork Ribs in Canadian Sauce
by Editorial Staff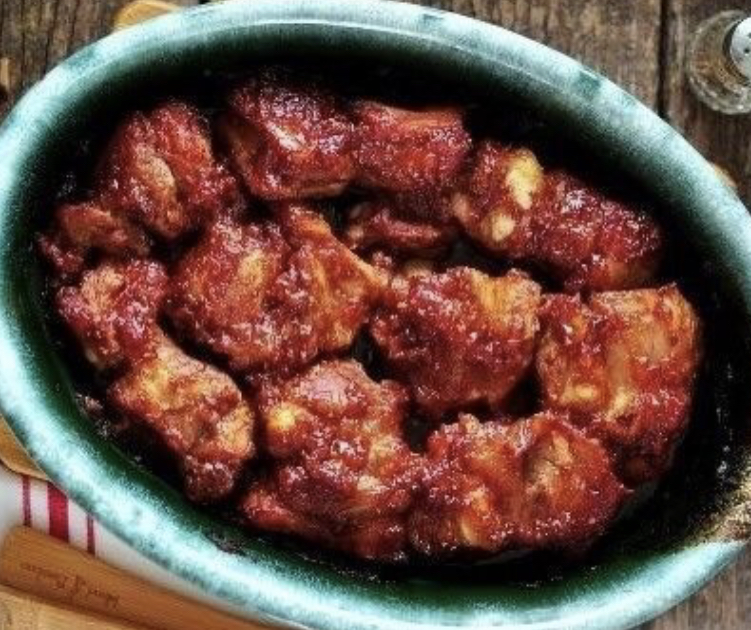 Pork ribs baked in a spicy-sweet sauce with fruit puree, soy sauce, and ketchup. The sauce made according to this recipe is said to taste very close to the sauce prepared in one of the restaurants in Canada.
Ingredients
Pork ribs – 800 g
Fruit puree (apple) – 80 g
Ketchup – 80 g
Soy sauce – 2-3 tbsp
Lemon – 0.5 pcs.
Brown sugar – 2 tbsp
Ground black pepper – 0.5 teaspoon
Ground sweet paprika – 0.5 teaspoon
Ground dried garlic – 0.5 teaspoon
Ground cinnamon – 0.5 teaspoon
Directions
To prepare pork ribs in Canadian sauce, prepare all the ingredients listed.
Rinse the pork ribs, pat dry with a paper towel.
Fruit (apple) puree can be bought ready-made, but it is very simple to cook it at home: cut a large apple lengthwise into four parts, remove the seeds and place the apple in the microwave for about 10 minutes; then separate the apple pulp from the rind.
Stir all the sauce ingredients until smooth: ketchup, applesauce, squeezed lemon juice, soy sauce, sugar, and spices.
Cut the pork ribs into small pieces.
Place the ribs in the cooked marinade sauce.
Toss the ribs with the sauce and let sit for a few minutes (or refrigerate for half an hour or more).

Place the pork ribs in a convenient baking dish. Preheat oven to 200 degrees.
Bake ribs in the oven for 1-1.5 hours. Grease them from time to time with the remaining sauce (2-3 times). If during baking a lot of fat is released from the ribs, it is better to drain it.
Serve the cooked baked pork ribs in Canadian-style sauce as a separate dish. Ideal for a cold beer.
Enjoy your meal!
Also Like
Comments for "Pork Ribs in Canadian Sauce"