Pork Ribs with Cabbage
by Editorial Staff
I want to tell you how to make pork ribs with cabbage. It turns out the dish, although simple, but, as they say, not without charm. Appetizing meat on a juicy vegetable pillow – does it sound delicious?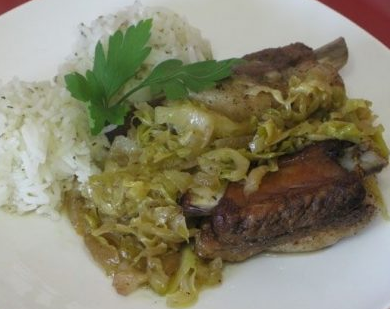 Cook: 1 hour
Serving: 4-5
Ingredients
Pork ribs – 500 Grams
Cabbage – 1 Piece
Onions – 1 Piece
Bay leaf – 2 pieces
Salt – To taste
Spices – To taste (recommend nutmeg, hot paprika and lemon pepper.)
Directions
Rub the ribs with salt, pepper and spices of your choice. Leave to marinate for at least an hour.
Fry the ribs in a frying pan with olive oil until golden brown. We put it aside for now.

Now fry the chopped onion in the same oil and mix with finely chopped cabbage. Salt a little, pepper and add seasoning to this mixture.
Put a layer of cabbage with onions in a heat-resistant form, and add bay leaves to them. And upstairs – meat. We bake at 180 degrees for an hour.
Here we have such beauty.
Bon Appetit!
Also Like
Comments for "Pork Ribs with Cabbage"