Pork Ribs with Onions
by Editorial Staff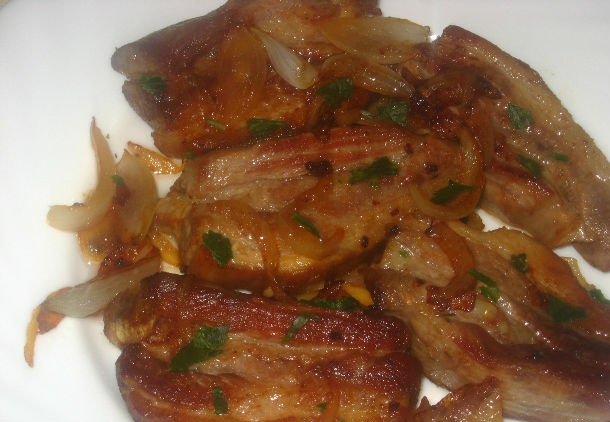 The taste and aroma of ribs with onions will not leave indifferent all lovers of meat dishes.
Ingredients
Pork ribs – 700 g
Large onions – 1 pc.
Garlic – 4 teeth
Bay leaf – 1 pc.
Ground black pepper – 0.25 teaspoon
Salt to taste
Spices for meat – to taste
Vegetable oil – 50 ml
Greens to taste
Directions
Wash the ribs, divide into parts, dry with a paper towel. For the dish, it is better to choose the meat of young pigs with cartilage instead of bones, good meat and with a little fat.
Peel the onion, cut into half rings 2-3 mm thick. Heat vegetable oil in a cauldron or high frying pan.
When the oil is well warmed up, dip the pork ribs into it and fry until golden brown over high heat for 10-15 minutes, stirring occasionally and turning the meat over.
Transfer the chopped onion to the ribs and fry for another 5 minutes, stirring occasionally. Pour about 100 ml of boiling water into the cauldron, salt, add pepper and your favorite spices to the meat, bay leaf, chopped garlic.
Bring to a boil, reduce heat, cover and simmer pork ribs for another 20-30 minutes until tender, stirring occasionally. Reduce heat, cover the pan with a lid and bring the pork ribs until tender, not forgetting to stir occasionally, for about half an hour.
When the stewed pork ribs are ready, you can add chopped herbs if desired.
Enjoy your meal!
Also Like
Comments for "Pork Ribs with Onions"