Tomato Soup with Pork Ribs and Rice
by Editorial Staff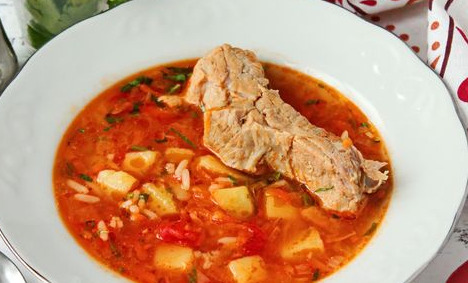 A soup of pork ribs and canned tomatoes in its own juice will perfectly diversify your usual lunch. Tomato soup with rice is rich and tasty.
Ingredients
Pork ribs – 300 g
Canned tomatoes in their own juice (peeled) – 200 g
Long grain rice – 30 g (1.5 tablespoons)
Potatoes – 160 g (2 pcs.)
Onions – 70 g (1 pc.)
Carrots – 60 g (1 small)
Garlic – 2 cloves
Fresh greens – to taste
Salt to taste
Ground black pepper – to taste
Vegetable oil – 2 tbsp
Water – 1.5-2 l
Directions
Rinse the pork ribs, cut into portions and fill in a saucepan with water. Bring to a boil over medium heat. Reduce heat and simmer for 1 hour to remove any foam.
Peel the potatoes, cut into small cubes and add to the saucepan with the ribs ready.
Rinse the rice well and add to the saucepan. Simmer for 10 minutes over medium heat.
Pour vegetable oil into a skillet and heat over medium heat. Grate the peeled carrots on a medium grater and place them in the pan.
Peel and cut onions into small cubes. Add the onions to the skillet with carrots, stir.
Fry for 5 minutes, stirring.
Chop the tomatoes in their own juice and add to the pan with fried vegetables.
Toss, add 3 tablespoons of stock from a saucepan, and simmer for 3 minutes.
Place the frying pan into the soup pot and add the bay leaf. Season with salt and pepper and cook for another 7 minutes.
Remove from heat. Peel and chop the garlic. Rinse the greens and chop finely too. Add herbs and garlic to the saucepan. Stir.
Tomato soup with rice is ready. Pour into bowls and serve.
Enjoy your meal!
Also Like
Comments for "Tomato Soup with Pork Ribs and Rice"