Lamb Loin in a Garlic-Lime Marinade, Grilled
by Editorial Staff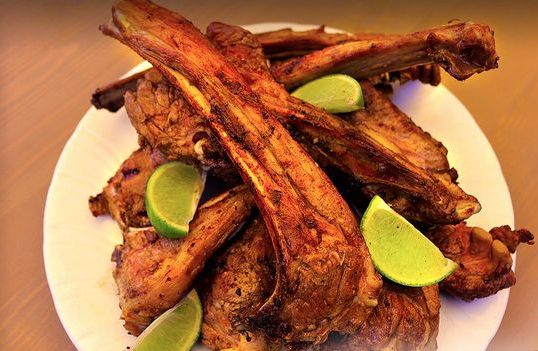 A very sensible recipe for cooking lamb in a garlic-lime marinade with coriander, cumin and ground ginger. The lamb is very juicy, spicy, with a slight sourness. Everyone who has tried such lamb in my preparation really likes this dish, so I can safely recommend this recipe!
Ingredients
Lamb loin – 1.5 kg
Lime – 1 pc.
Garlic – 2 cloves
Olive oil – 4 tbsp
Coriander (seeds) – 1 teaspoon
Zira (seeds) – 1 teaspoon
Ground ginger – 0.5 teaspoon
Freshly ground pepper – to taste
Salt to taste
Directions
We prepare all the necessary ingredients. Cut the lamb loin into portions (one rib at a time).

We start cooking with the marinade. To do this, put coriander, cumin, ground ginger, salt and freshly ground pepper in a mortar. Grind the spices until smooth. Pass the garlic into the mortar through a press. Cut the lime into 4 pieces. Squeeze the juice of one-quarter of the lime into the mortar. We leave the rest of the lime to serve the finished dish. Add olive oil. Mix the contents of the mortar.
Now we marinate the lamb. For the convenience of marinating, transfer the meat to a deep bowl. Pour the marinade over the meat. Using our hands we distribute the marinade over each piece of meat. Try to get the marinade evenly over the entire surface of the meat. Leave the meat to marinate for 2 hours. If you marinate meat in the refrigerator, remove it from there half an hour before cooking.
An hour and a half after the start of marinating, prepare the grill for use. We light up coal. I do it as conveniently as possible – in a special starter. Pour hot charcoal into the grill. Install the upper grill, heat it and clean it with a metal brush.

Fry the lamb loin over medium heat for 2.5-3 minutes on each side.
Serve the grilled lamb loin on the table. Before eating, I recommend pouring some lime juice over the lamb.
Bon Appetit!
Also Like
Comments for "Lamb Loin in a Garlic-Lime Marinade, Grilled"