Rice with Ginger, Spices, Orange Juice and Zest
by Editorial Staff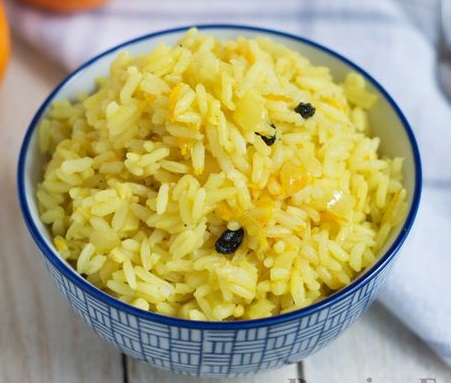 Delicious rice made with orange zest and juice is delicious and looks very attractive! The rice turns out to be crumbly, turmeric gives the dish a pleasant yellowish tinge, and barberry and ginger serve as small bright accents.
Ingredients
Long grain rice – 150 g
Orange – 1 pc. (170 g)
Bulb onions – 1 pc. (90 g)
Vegetable oil – 2 tbsp
Ginger (root) – 1 piece (about 2 cm)
Garlic – 1 clove
Dried barberry – 1 teaspoon
Sugar – 1 teaspoon
Ground turmeric – 1/4 teaspoon
Salt – 1/2 teaspoon
Ground black pepper – on the tip of a knife
Water – 400 ml
Directions
Prepare the food you need.

Wash the orange thoroughly, cut a couple of wide strips with a vegetable knife. Remove the rest of the zest (only the orange part of it, since the white, is bitter) from the orange with a fine grater. Squeeze the juice out of the peeled orange (I got 40 ml).
Peel the onion and cut it into small cubes. Heat vegetable oil in a skillet and add chopped onion. While stirring, fry over medium heat for 2-3 minutes.
Peel and finely dice the garlic and ginger. Add turmeric, sugar, ginger, and garlic to the onions. While stirring, cook over medium heat for 1 minute.
Add rice and strips of orange zest to the skillet. Cook over low heat for a couple of minutes, stirring occasionally, to soak the rice with oil.
Pour water into the pan, add salt, black pepper, and barberry.
After boiling, cook the rice covered over low heat for 20 minutes. Pour orange juice into the finished rice, add the grated orange zest in parts, stirring the rice. I added 3/4 teaspoon of zest. Rice should not be bitter.
Rice with ginger, orange juice, and zest is ready.

Rice can be served immediately after cooking.
Enjoy your meal!
Also Like
Comments for "Rice with Ginger, Spices, Orange Juice and Zest"