Royal Charlotte
by Editorial Staff
A royal charlotte should be with a royal set of ingredients – here you will have nuts, honey, apples, butter. Unusually delicious cake, which is simply impossible to resist.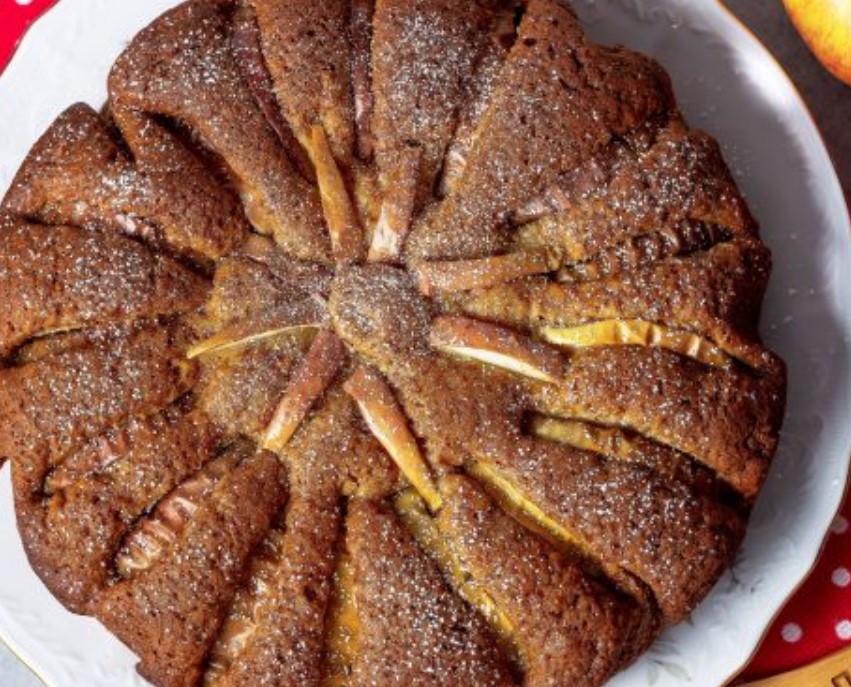 Cook: 1 hour 10 mins
Servings: 8-10
Ingredients
Wheat flour – 250 grams
Butter – 150 grams (room temperature)
Chicken Egg – 3 Pieces
Sugar – 150 Grams
Honey – 80 Grams
Ginger – 1 Teaspoon (dry)
Lemon zest – 1 Teaspoon
Soda – 1 Teaspoon
Baking powder – 0.5 teaspoons
Salt – Pinch
Walnuts – 50 Grams
Apple – 1-2 Pieces
Powdered Sugar – To taste (for serving)
Directions
Prepare the required ingredients. Wash the apples.

Add baking powder, baking soda, salt, dry ginger and lemon zest to the sifted flour. The zest can be used dry.
Beat butter with sugar. Then beat in the eggs one at a time. Beat after each egg for at least 1 minute. Add honey.
Whisk thoroughly until smooth.
In 2-3 doses, enter the dry mixture and mix with a spatula.
When the dough is done, add the chopped nuts and stir.
Cover the mold with parchment and spread out the dough evenly.
Cut the apples into slices and press them into the dough, cut down, as shown in the photo.

Bake in an oven preheated to 160 degrees for 50 minutes on non-convection mode. Then turn off the oven and leave the cake inside for another 7-10 minutes.
Sprinkle the cooled cake with icing sugar and serve.
Enjoy your tea!
Also Like
Comments for "Royal Charlotte"