Seafood Kebab with Tarragon Sauce
by Editorial Staff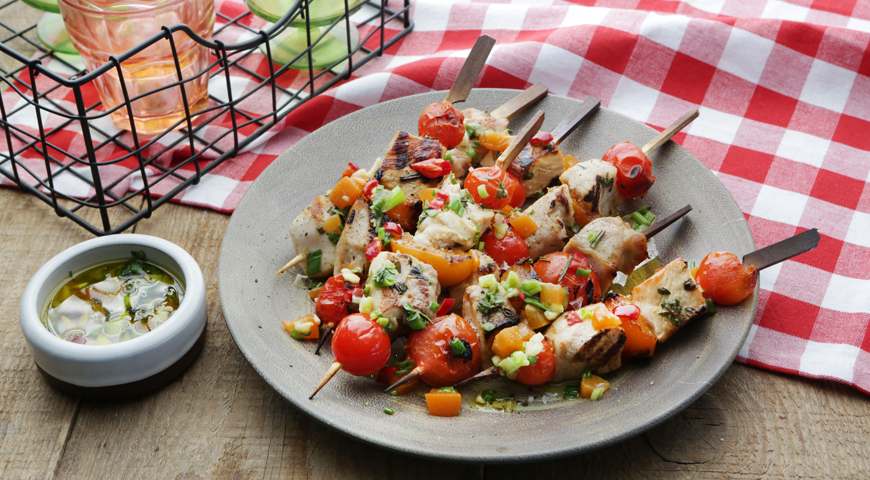 These kebabs are made from fish, scallops and vegetables. Served seafood kebabs with tarragon sauce.
Servings: 4
Ingredients
Lemongrass (lemon grass) – 8 stems
Salmon, skinless fillet – 230 g
Scallops – 8 pcs.
Pearl onions (small) (peeled, blanched) – 8 pcs.
Bulgarian yellow pepper (diced) – 0.5 pcs.
Butter – 100 g
1/2 lemon juice
Vermouth dry – 2 tbsp (30 g)
Fresh tarragon (chopped) – 5 g (1 teaspoon.)
Salt to taste
Ground white pepper – to taste
Paprika – to taste
Directions
Switch on the oven with grill function to preheat to medium-high temperature.
Cut off about 10 cm of the tops of each stem of lemongrass, and set aside the roots for further culinary masterpieces. Cut the bell pepper into 8 pieces.
Cut the salmon fillet into 12 cubes of 2 cm in size. On the lemongrass stalks, string the salmon, scallops, onions and peppers in turn. Place the seafood kebabs on the grill rack.
In a small saucepan, heat half the butter, add lemon juice and a pinch of paprika. Grease the kebabs with this flavoured oil and place on the grill, cook the seafood kebabs for about 2-3 minutes on each side, oiling every minute. Transfer the seafood kebabs to a plate.
Pour the juice that flows during the preparation of kebabs into a saucepan, add vermouth, boil and boil to half of the total mass. Add the remaining butter to the saucepan and stir. Then add tarragon, salt and white pepper to taste into a saucepan. Pour this sauce over seafood kebabs.
Also Like
Comments for "Seafood Kebab with Tarragon Sauce"