Seafood Kebabs
by Editorial Staff
Delicious and healthy seafood kebabs should be marinated in the citrus marinade for an hour and then grilled.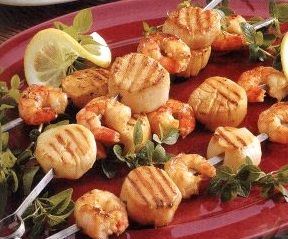 Servings: 4
Ingredients
Large shrimps (peeled) – 28 pcs.
Scallops – 28 pcs.
Butter – 100 g
Fresh lemon juice – 7 tbsp
Worcestershire sauce – 5 tbsp
Garlic powder – 1-2 teaspoon
Paprika – 1 teaspoon
Vegetable oil for grilling grill
Directions
Place the shrimp and scallops in a large plastic bag with clasps.
In a microwave-safe bowl, combine Worcestershire sauce, butter, lemon juice, garlic powder, and paprika. Put in the microwave for 1-2 minutes, until the butter melts.
Remove the bowl from the microwave, mix the oil mixture well, take 1/3 cup of the total mass and reserve. Pour the rest of the marinade into a bag with seafood, close the bag, shake well and put in the refrigerator for 1 hour, stirring a couple of times during this time.
Grease the grill grate with vegetable oil and turn on the grill for preheating to medium temperature.
Remove the seafood from the package with the marinade and string it on metal or wooden (soaked in water) skewers. Place the seafood skewers on the grill and fry, uncovered, for about 6 minutes on both sides. Then grease the skewers with the reserved marinade and fry the seafood skewers for another 8-10 minutes.
Also Like
Comments for "Seafood Kebabs"