Lasagne with Seafood
by Editorial Staff
The best dishes of Italian cuisine, as opposed to fine French dishes, are simple and loved all over the world. Feed your guests deliciously – cook the popular lasagna – everyone will be full and happy. From seafood – shrimp, surimi (crab sticks), fish. From the complementary "aromas" – onion, garlic, nutmeg, parsley. If you can't find all types of cheese, use similar ones.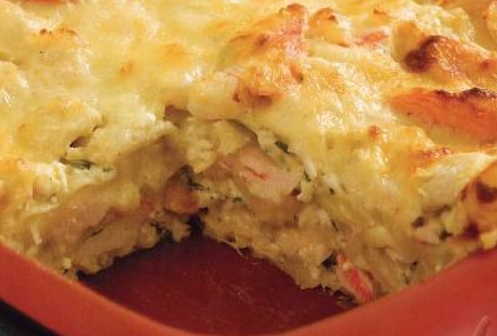 Servings: 7
Ingredients
olive oil 2 tbsp
onion 1 PC.
garlic 4 clove
dry white wine 0.75 glasses
Alfredo sauce 450 r
Italian cheese mix 220 r
ground nutmeg 0.25 h. spoons
fresh shrimp, peeled and chopped 450 r
crab sticks 450 r
or crab meat 450 r
flounder fillet 330 r
ricotta cheese 420 r
eggs 1 PC.
parsley 0.25 glasses
lasagna dough nine sheets
mozzarella cheese 220 r
Directions
Preheat oven to 175 degrees. Lubricate the mold or cover it with a special non-stick spray.
In a large skillet, heat olive oil over medium heat. Sauté the onion and garlic for 7-8 minutes. Pour in the wine and cook for 2 minutes. Add Alfredo sauce, cheese mixture, and nutmeg. Remove from heat. Stir in shrimp, crab meat, and flounder pieces.
Toss the ricotta, egg, and parsley separately. Place ¼ cup of this mixture on the bottom of the tin. Cover with three dough rectangles. Spread evenly 1/3 of the remaining ricotta, 1/3 of the seafood mixture, sprinkle with 1/3 of the shredded mozzarella cheese. Repeat the layers twice, starting with the dough and ending with the mozzarella.
Bake lasagne for 35-45 minutes. Leave for 10 minutes and serve.
Enjoy your meal!
Also Like
Comments for "Lasagne with Seafood"