Soup with Meat, Mushrooms, and Pickles
by Editorial Staff
This recipe for soup with meat, mushrooms, and pickles is definitely worth your attention. The soup is incredibly tasty, thick, and filling. It perfectly combines mushrooms, pork, and even pickles. Do not be afraid to experiment! This first course will definitely surprise you!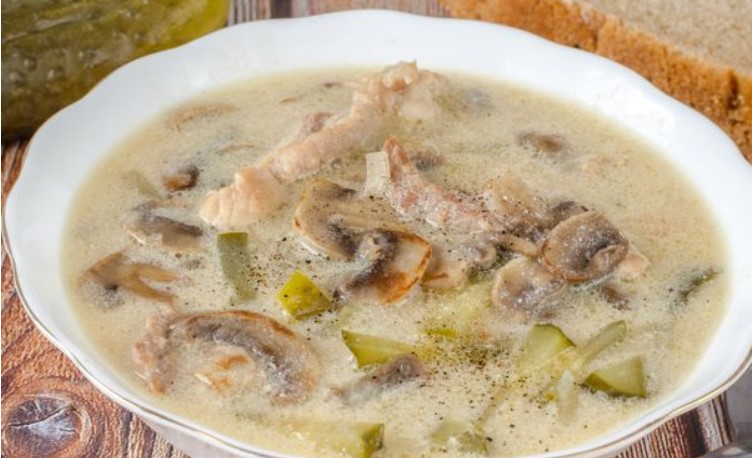 Cook: 50 mins
Servings: 5
Ingredients
Pork – 700 g
Champignons – 400 g
Onions – 250-300 g
Wheat flour – 4 tablespoon.
Pickles – 3-4 pcs.
Mustard – 2 tablespoon.
Cream 20 % fat – 100 ml
Vegetable oil – 20 ml
Salt – to taste
Pepper – to taste
Water (boiling water) – 1.8 l
Directions
Wash the meat and cut it into strips.
Heat a frying pan with the vegetable oil, put the meat there. Brown the meat over medium heat for about 10 minutes stirring occasionally. Add pepper to the meat when cooking. Take out the cooked meat on any plate.

Chop the onions and fry them over medium heat for 5 minutes in the same frying pan.
Wash the champignons and cut them into slices. Add them to the onions and fry for 10 minutes until the liquid evaporates. Salt and pepper to taste.

Put the flour in the pan and fry everything for 1-2 minutes.
Add the fried meat to the pan and pour 300 ml of boiling water. Stir and bring the contents to a boil.

Place the mushrooms with the meat into a saucepan, pour the boiling water (1.5 liters) and cook for 10 minutes.
Cut the pickles into strips and put them into the saucepan. Cook the soup with pork, mushrooms, and pickles for 5 more minutes.

Add mustard and cream. Stir everything, bring the soup to a boil, and turn off the heat.
The soup with meat, mushrooms, and pickles is ready to be served.
Enjoy your meal!
Also Like
Comments for "Soup with Meat, Mushrooms, and Pickles"