Spaghetti With Meatballs
by Editorial Staff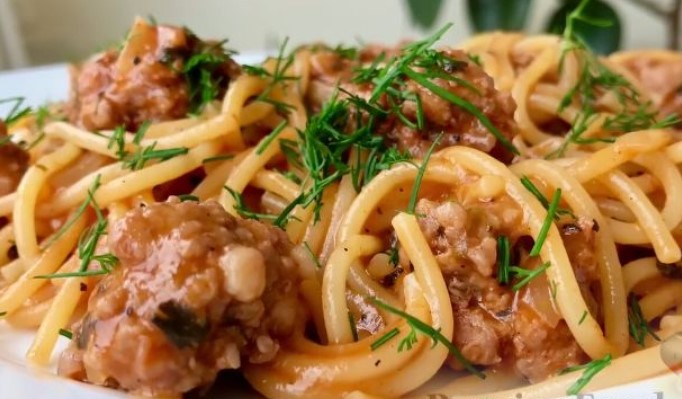 The recipe for spaghetti with meatballs in tomato sauce is another dinner idea so as not to puzzle over what to cook for your family.
Cook: 30 mins
Serving: 4
Ingredients
Durum wheat spaghetti – 200 g
Minced meat – 300 g
Tomato juice – 350 ml
or ketchup (or tomato paste)
Water – 350 ml
Onion – 1 piece
Basil – 1 teaspoon
Garlic – 0.5 teaspoon
Paprika – 0.5 teaspoon
Pepper – 0.5 teaspoon
Salt – 1 teaspoon
Sugar – 1 teaspoon
Directions
How to cook spaghetti with meatballs (in a skillet):
Pour 1 tablespoon into the wok. a spoonful of sunflower oil and tomato juice. Pour in all the spices and salt.
(Since I use just tomato juice, I add 1 teaspoon of sugar. If you use ketchup, do not add sugar. You can also add sugar to tomato paste.)
Turn on the heat, stir and cover to make the spaghetti sauce faster warmed up.
Cut the onion into cubes and mix with the minced meat. Salt and stir.
The tomato is boiling, making the smallest fire.
We take minced meat with a teaspoon of minced meat and form something like meatballs.

Without stirring, pour in along the edge of the water.
We make the fire above average, cover with a lid. We are waiting for 15 minutes.
After 15 minutes, mix everything.
Add spaghetti, breaking them into several pieces if desired. Mix everything, make medium heat and cover with a lid.

Cook for another 8 minutes, stirring once during this time.
Spaghetti with meatballs are ready. Sprinkle with herbs and serve.

Enjoy your meal!
Also Like
Comments for "Spaghetti With Meatballs"