Stuffed Beets
by Editorial Staff
Every housewife has cooked stuffed vegetables at least once. What can you say about stuffed beets? We will cook it today, namely, stuff it with a very tasty filling of marinated chicken fillet fried with onions. It turns out a very elegant and tasty dish from simple products. Beets stuffed with chicken fillet can be cooked both for everyday lunch and for a festive table – a worthy dish!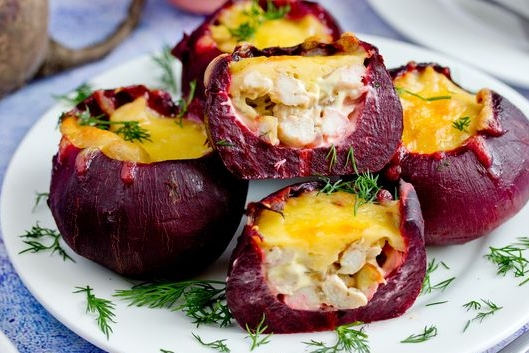 Cook: 1 hour 40 mins
Servings: 4
Ingredients
Beets – 4 pcs. (about 130-140 g each)
Chicken fillet – 100 g
Onions – 40 g
Sunflower oil – 2 tbsp
Soy sauce – 0.5 tbsp
Table vinegar – 1 teaspoon
Hard cheese – 40 g
Mayonnaise – 4 teaspoon
Garlic – 1 clove
Salt – 1 pinch
Ground black pepper – 1 pinch
Directions
Prepare all the ingredients you need to make the stuffed beetroot.

Marinate the chicken breast fillet first. Cut the chicken fillet into small cubes.
Transfer the chicken to a bowl, add a clove of garlic passed through a press, add a pinch of salt and black pepper, add soy sauce and vinegar.
Stir and place the chicken in the refrigerator to marinate for 1 hour.
During this hour, boil the beets without salt. Boil the beets until soft and cooked. Depending on the degree of ripeness, variety and size of beets, the cooking time can vary from 30 minutes to 1.5 hours. I boiled beets weighing about 130-140 g for 40 minutes. (Instead of boiling, you can bake the beets in the oven.)
Cool the boiled beets and peel them.
Using a noisette spoon or a teaspoon with sharp edges, remove the center from each beet, leaving the bottom and sides intact.
Peel the onions and cut into small cubes.
Heat the sunflower oil in a skillet. Remove the marinated chicken fillet from the refrigerator and transfer to the pan with the onions.
Over high heat, stirring occasionally, fry the chicken fillet with onions for 7 minutes, until tender.
Place the beets in a baking dish. Turn on the oven.
Put 1 teaspoon of mayonnaise in each beet.
Then spread the chicken filling into the indentations in the beets, filling each beet almost completely.
Grate hard cheese on a coarse grater.
Place the cheese on top of the stuffed beets, covering the filling.
Bake the beets stuffed with chicken fillet in an oven preheated to 200 degrees for about 10-12 minutes.
Beets stuffed with chicken and cheese are ready. Serve hot stuffed beets.
Bon Appetit!
Also Like
Comments for "Stuffed Beets"