Sweets With Waffle Chips
by Editorial Staff
Children are very fond of messing around in the kitchen. Invite them to make tasty waffle crumbs together. The process is quick and fun, and the taste of the treat will delight the whole family. Let's cook!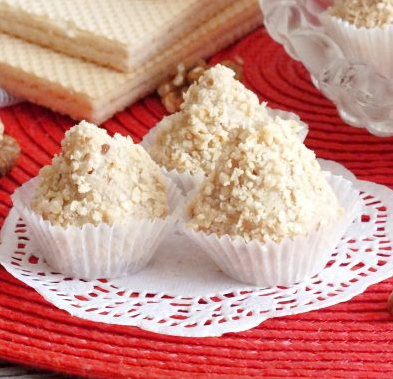 Cook: 1 hours 30 mins
Serving: 3-4
Ingredients
Waffles – 150 grams (creamy taste)
Walnut – 50 Grams
Condensed milk – 2.5-3 Art. spoons
Directions
Prepare the required ingredients.

In a blender, grind the waffles into crumbs. Set aside 50 grams for the topping. Transfer the rest of the crumb to the bowl.
Grind the walnuts in a blender into crumbs and add to the chopped waffles.
Add condensed milk to waffle crumbs with nuts. Stir.
The resulting mass should be dense, after squeezing the lump should keep its shape well.
Prepare the set aside. Roll into walnut-sized balls from the waffle-nut mass. Shape the candy into a "truffle" shape. Dip in waffle crumbs.
Put the finished candies in the refrigerator for 1 hour. Then you can serve it to the table.
Bon Appetit!
Also Like
Comments for "Sweets With Waffle Chips"