Very Simple Cheese Cakes
by Editorial Staff
Easy to prepare, tender and tasty flat cakes. Very, very cheesy, because the cheese is put in the dough and in the filling! You can take several varieties of cheese – and it will be even tastier!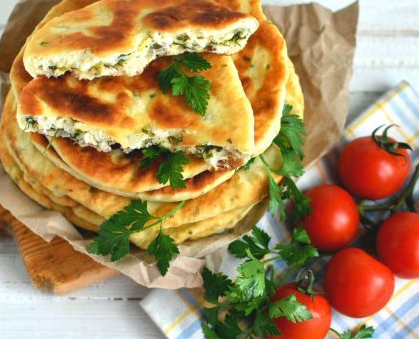 Cook: 40 mins
Serving: 6-8
Ingredients
Kefir – 1 Glass
Egg – 1 Piece
Wheat flour / grade – 1 Glass
Sugar – 1 Teaspoon
Salt – 1/2 Teaspoon
Soda – 1/2 Teaspoon
Cheese – 250 Grams (any, preferably a mixture of different varieties)
Greens – 2 Bunches (different to taste)
Vegetable oil – To taste (for frying)
Directions
In a convenient bowl, combine kefir with egg, salt, sugar and some grated cheese. I added about 100 grams. Also add a spoonful of chopped greens.
Add flour sifted with baking soda.
Knead a soft, pliable dough, it may take a little more flour.
Roll the dough into a ball and cover with a bowl, let it sit for 15 minutes.

During this time, grate the cheese for the filling. Feel free to take 2-3-4 species – it will only be tastier! I took Dutch, Adyghe, a little gouda and melted fetax. Add chopped herbs to the cheese. Take greens to taste too, the main thing is to dry them well before cutting. I took dill, green onions, some parsley and mint. Mix well, the filling is ready.
Cut off pieces the size of a medium egg from a common dough. Keep the rest of the dough under the lid.
Roll each piece into a thin flat cake. Put some filling in the middle, gather the edges of the dough towards the middle into a knot.

Pinch well and roll back into a flat cake to fit the pan.
Fry the tortillas in a well-heated skillet with a little oil, turning over. The cakes first swell, then gradually fall off. I will give advice: it is better to fry such cakes in a frying pan without an anti-stick coating, then the cakes will fry faster and will be rosy.
Put the finished cakes on a wire rack or paper if there was a lot of oil during frying.
Serve immediately, hot, hot! Delicious!
Bon appetit!
Also Like
Comments for "Very Simple Cheese Cakes"