Watermelon Shake
by Editorial Staff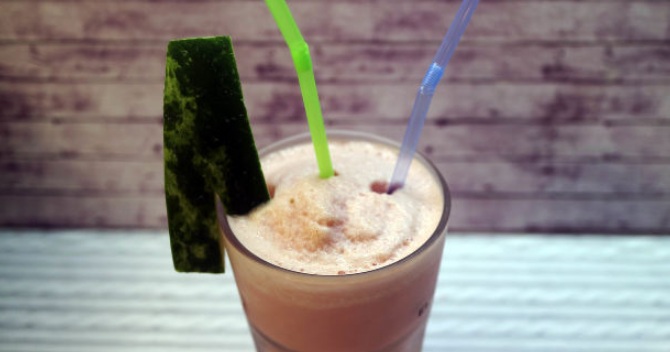 Good day! Try this incredible milkshake – frothy, sweet, of the most delicate pinkish color … Milk-watermelon shake turns out to be neither cloying nor heavy.
Cook: 2 hour
Servings: 4
Ingredients
Frozen watermelon pulp – 1.5 cups
Milk – 1 glass
Sugar (or honey) – 2 teaspoon (taste)
Directions
The watermelon must be pre-frozen. To do this, cut it into pieces of 2-3 cm, it is advisable to remove all the bones. Ideally, you can put everything on parchment paper, lay out all the pieces neatly, and freeze in the freezer on a tray. You do not have to bother about this, cut pieces of watermelon into a bowl and let stand for 15 minutes so that the excess liquid is glass. The excess water will drain – and the watermelon will not stick together when frozen. Pack the pieces into bags. After freezing, you can put them in airtight bags and store so up to 3 months, but not more.
So, if you want freshness, August, watermelon – send 1.5 cups of frozen watermelon pieces to a blender bowl.
Add 1 glass of milk there. You can add a little cream for taste. Let sit for 5 minutes to thaw the watermelon a little, because the blender will be a little "naughty" when you beat everything.
You can add sugar/honey to taste. If present, add mint.
Beat everything with a blender until smooth milkshake consistency.
Actually, it's done! Your shake is ready. Garnish with a slice/crust of watermelon or mint, insert a couple of straws and serve. Surprise and enjoy the taste of summer!
Also Like
Comments for "Watermelon Shake"