Watermelon Jelly
by Editorial Staff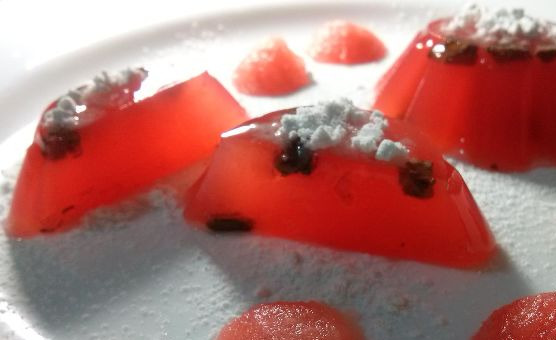 Watermelon jelly has a delicious taste, delicate color, and texture. There is practically no sugar in this jelly. You can add mint leaves, and for those with a sweet tooth, sugar. Refreshes watermelon jelly wonderfully. This healthy watermelon dessert will appeal to both adults and children.
Servings: 5
Ingredients
Watermelon – 1/2 pc.
Gelatin – 1 sachet
Chocolate – 10 g
Powdered sugar – for dusting
Directions
Pour gelatin with water at room temperature (based on 100 ml of water – 10 grams of gelatin) and let it brew for 15 minutes.
Cut the chocolate into small pieces.
Separate the watermelon pulp from the seeds and rind with a knife or spoon. Grind the resulting pulp with a submersible blender until juice is obtained.
Pass the watermelon juice through a sieve.
We heat the swollen gelatin in the microwave for 1 minute, pour it into the watermelon juice in a thin stream and mix well.
Pour some chocolate into the prepared molds, pour watermelon juice with gelatin and sprinkle with pieces of chocolate on top. We put molds with watermelon jelly for solidification in the refrigerator overnight.
Sprinkle the frozen watermelon jelly with icing sugar.
Enjoy your meal!
Also Like
Comments for "Watermelon Jelly"