Jelly in Watermelon Rind
by Editorial Staff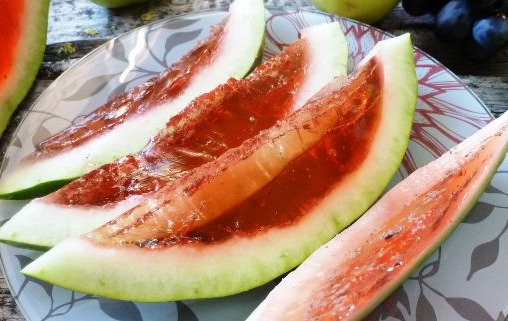 Not only children will be delighted with such a beautiful dessert, but adults will also be happy to try it. Fruit jelly is served in watermelon crusts and imitates watermelon slices in color and appearance, which, no doubt, will amuse loved ones.
Cook: 1 hour 20 minutes
Ingredients
Fruit and berry jelly – 1 pack (45 g)
Small watermelon (watermelon peel) – 0.5 pcs.
Black chocolate – to taste
How to make jelly in watermelon:
Directions
Grate chocolate.
Dissolve the fruit jelly in warm (hot) water according to the instructions on the package. The gelatin crystals must completely dissolve. For quick dissolution, the bowl can be warmed up in the microwave for a few seconds without boiling. My advice: to keep the jelly well and to be denser, add less water than the specified amount on the pack.
Pour some of the cooled jellies into the watermelon rind, sprinkle with chocolate chips and send them to the refrigerator to solidify.

When the jelly surface hardens, pour in a little more and sprinkle with chocolate chips. Put in the refrigerator again. Thus, use all the jelly prepared. Let the dessert solidify in the refrigerator.
Cut the jelly in the watermelon rind into convenient pieces (wedges) and serve.
Bon Appetit!
Also Like
Comments for "Jelly in Watermelon Rind"