White Bean Hummus
by Editorial Staff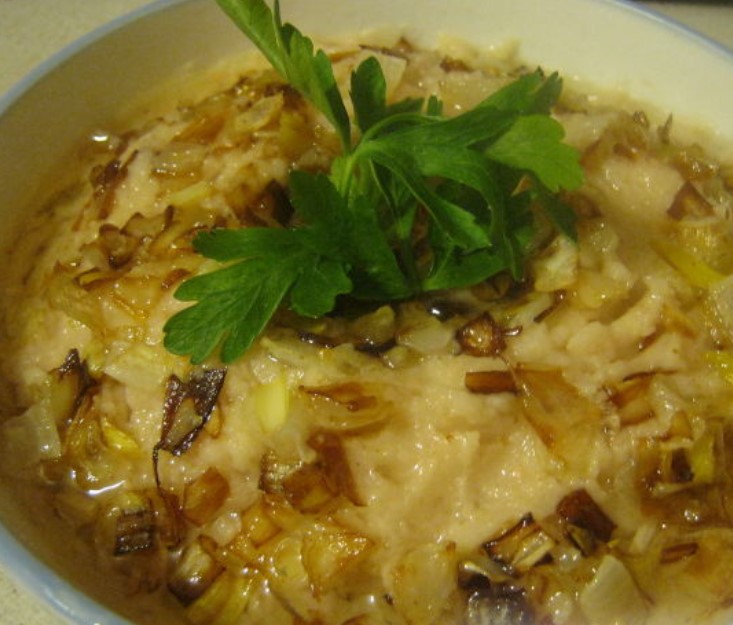 I recommend the gorgeous appetizer, tasty and simple. A good appetizer of beans for a lean table.
Cook: 1 hour
Servings: 6
Ingredients
White beans – 1-1.5 cups
or canned beans – 2 cans
Garlic – 2-3 cloves
Dried rosemary – 0.5 teaspoon
Lemon juice – 1-3 tbsp
Tahini (sesame paste, made from ground sesame seeds) – 2-3 tbsp
Sugar (optional) – 0.5 teaspoon
Salt to taste
Ground red pepper – 1 pinch
Olive oil – 1 tbsp (+ 1 tablespoon. L. For frying onions)
Paprika – to taste
Bulb onions (optional) – 1 pc.
Directions
Rinse beans, cover with cold water, soak for 2-3 hours (you can overnight). Drain the water. Pour fresh. Put on fire, bring to a boil. Cook over medium heat until tender (50-60 minutes). Drain the liquid. Cool the beans.

Peel and chop the garlic with a knife.
Place the beans and garlic in a blender, beat well until smooth.
Pour 1 tablespoon into the mass. a spoonful of olive oil, salt, add all the spices.
Mix well. Bean hummus is ready. It can be served with bread or lavash, and bean hummus is also good as a side dish for meat and fish.
Or you can serve bean hummus with fried onions. To do this, peel, wash, cut onions into cubes.
Preheat a frying pan, pour 1.5 tablespoon. tablespoons of olive oil. Put the onion in hot oil. Fry over medium heat, stirring occasionally, until golden brown. Remove from heat. Refrigerate.

Put the finished hummus in a bowl, pour over the onion frying. Refrigerate.
Bon Appetit!
Also Like
Comments for "White Bean Hummus"