There are many restaurants, cafes, and bars in London. But where to go to not only eat but also see or do something interesting? We have prepared a selection of non-trivial restaurants and cafes in London that will remain in your memory for a long time.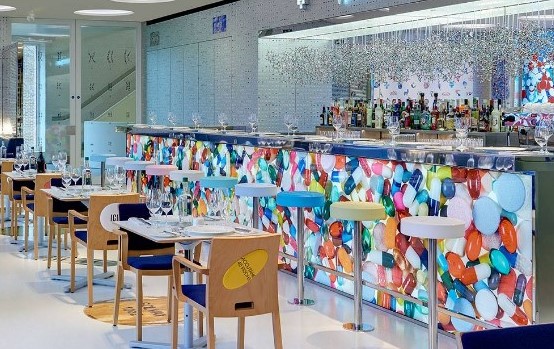 Lady Dinah's Cat Emporium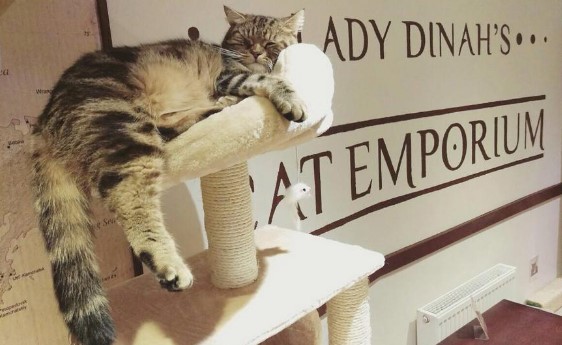 Lady Dinah's Cat Emporium is a restaurant with cats. Here they serve tea, latte with salted caramel and cinnamon, hot chocolate with raspberries and chili peppers, cold chocolate with coconut, and also serve sandwiches, salads, and buns with all kinds of fillings. You can't touch the cats, but if you order a bun with a cat's favorite treat, they can surround you with all their paws and tails. And for a complete delight – delicious cakes, including perfectly soaked "red velvet".
152-154 Bethnal Green Rd, Shoreditch, London E2 6DG
Reservation is required
https://www.ladydinahs.com
The Cheese Bar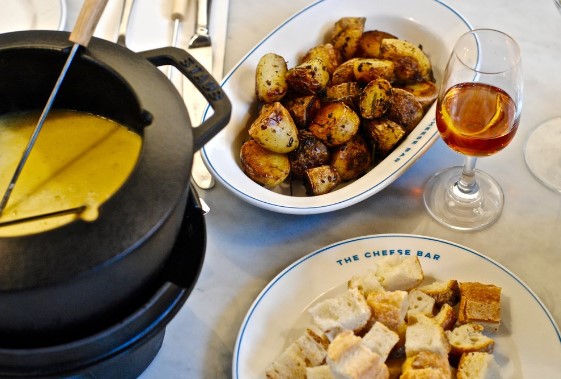 If you yourself, like Rocky from Disney's Chip and Dale, have a mustache curling from the smell of cheese, then you need to go to The Cheese Bar. The entire restaurant is dedicated to cheese. Triangular sandwiches with melted goat cheese, honey, and walnuts, with cheddar and bacon, pasta with four types of cheese, fondue. Tip: Come here and hum "Cheese, Cheese, Cheese." This does not guarantee a discount, but it leaves an imprint of a good mood.
Unit 93, 94 Camden Stables, London NW1 8AP
https://www.thecheesebar.com
Duck and Waffle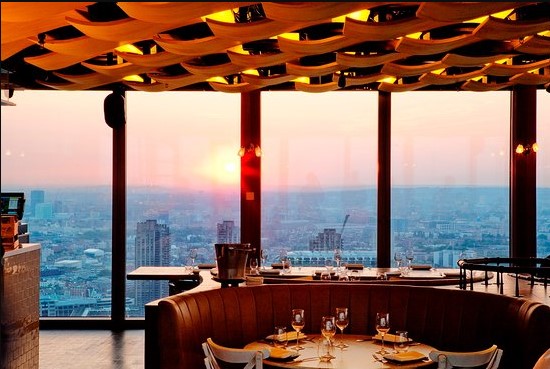 Almost everyone knows Duck and Waffle, which is located on the 40th floor of the Heron Tower. This is the highest "restaurant" height in London.
Ting, Hutong, Oblix, Aqua at Shard'e, Fenchurch, and Darwin Brasserie at Walkie Talkie, and Gavin at Windows at the Hilton also claim the title of the highest restaurant. Not to mention Sushisamba, which is right below Duck and Waffle. All of these places provide a great view of the city, and this distracts a little from the food. Among the menu recommendations at Duck and Waffle, of course, are the duck with waffles, for which everything was started, and pork ears. There is a lot of pork and duck on the menu. And for breakfast – waffles with scrambled eggs and beef cheek?
110 Bishopsgate, London EC2N 4AY
Works 24 hours
https://duckandwaffle.com
Tincan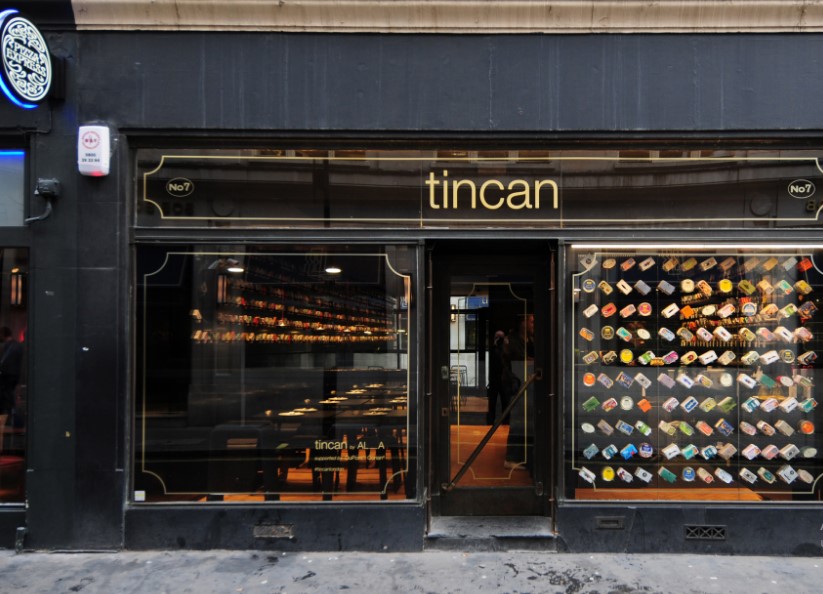 For those who are tired of fast food and want even more hardcore, there is Tincan, which only serves canned food. From sardines with lemon to caviar, from octopus to cod liver. The main attraction is the cuttlefish in their own ink and beautiful jars. I ordered one – I want another for the collection. Fortunately, the prices don't bite at all and are quite in line with what you eat. For canned food, prices start at two pounds. Inside there is a surcharge for a chair, table, and lemon water.
Closed Mondays
7 Upper James St, Carnaby, London W1F 9DH
http://www.tincanlondon.com
Attendant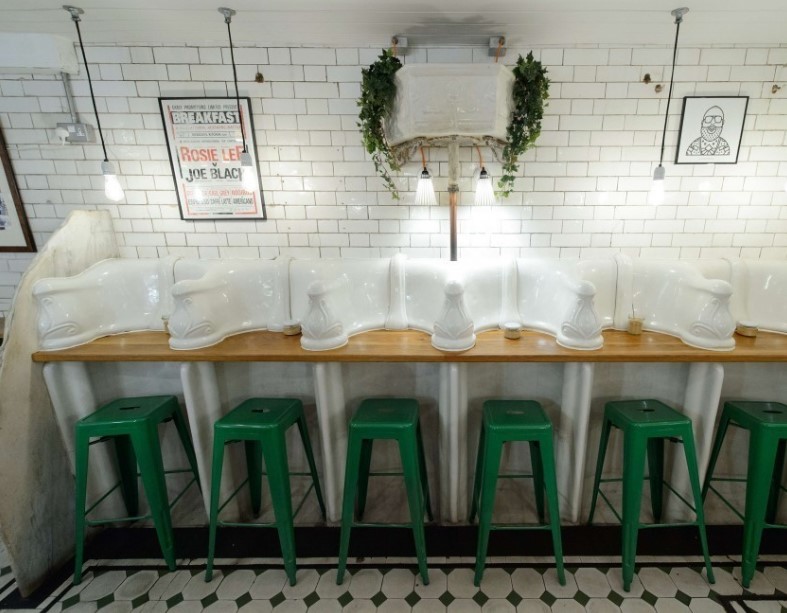 Do you like reading on the toilet? And what about lunch? For those who are ready to indulge in a meal right in the toilet, there is an Attendant. This is a Victorian men's toilet, in which urinals have been turned into tables and a cafe has been opened. To brighten up the impressions of especially impressionable persons, there is a lemon and rose cake on the menu. In addition – all types of coffee (home-roasted) and chic classic British snacks of salmon, salad, eggs, avocado, meatballs, cakes, and cookies.
74 Great Eastern St, London EC2A
https://the-attendant.com
The Clink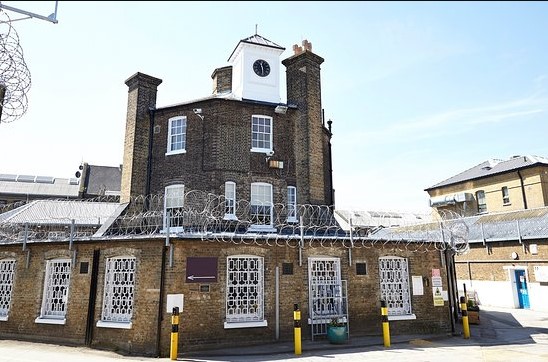 If you want to go to jail, go to The Clink. It is a charitable organization that opens restaurants within prison walls so that during their release, prisoners can acquire new skills and a profession that will help them get their first job and build a career in freedom. To come, you must submit an application.
The menu is surprisingly interesting. How do you like pigeon breast, quail eggs, black pudding, and bacon salad with lard in one dish? It sounds strange, but actually quite tasty. So you can try it. Moreover, it seems that after the second "Paddington", where the main action takes place in the prison canteen, dinners in places not so distant are becoming a mega-popular entertainment.
http: //theklinkharity.org
Fifteen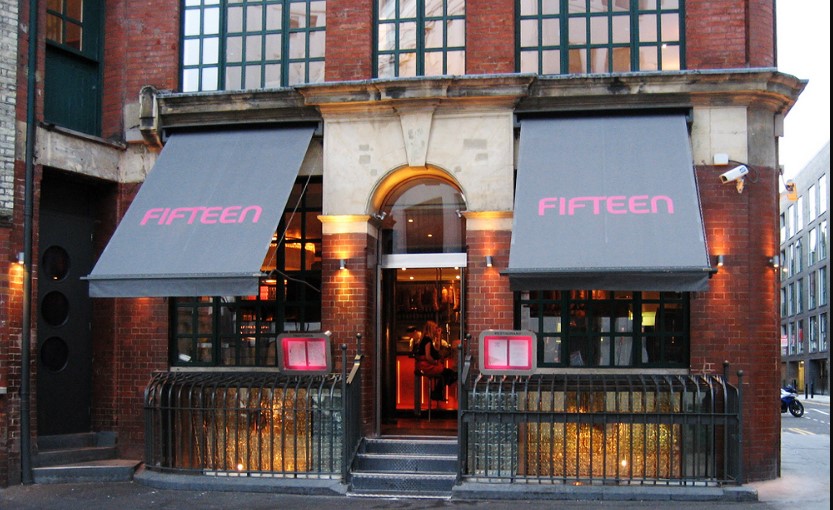 A similar story is practiced by Jamie Oliver, who at his restaurant Fifteen teaches teenagers from disadvantaged families how to properly fry, boil, steam, cut, peel and make cream roses. The food is immediately tested on visitors. The menu is British but quite interesting and complex. What is celery root remoulade with apple and Dorset crab worth? And that's just for a snack.
15 Westland Pl, London N1 7LP
https://www.fifteen.net
Petersham Nurseries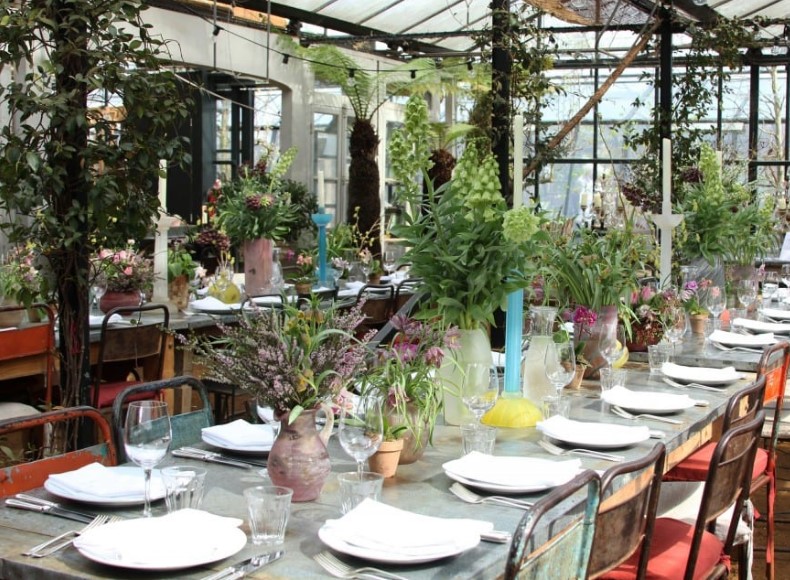 The place where not only the stomach is filled with beauty, but also the nose is Petersham Nurseries. Here, all year round and everywhere – flowers. And the dishes also have flowers. In addition to flowers, slowness and thoughtfulness are appreciated here, so the menu is always seasonal, the dishes are slow cooking, which causes admiration, both in appearance and taste. And yet – the place is called a cafe, but the menu is like in a full-fledged restaurant. If a carrot or pumpkin is added to the dish, then it is always multi-colored, bright, oily, if lettuce leaves, then you can paint a still life from them, if flowers, you can eat them!
Church Lane, Petersham Road, Richmond TW10 7AB
https://petershamnurseries.com
Pharmacy2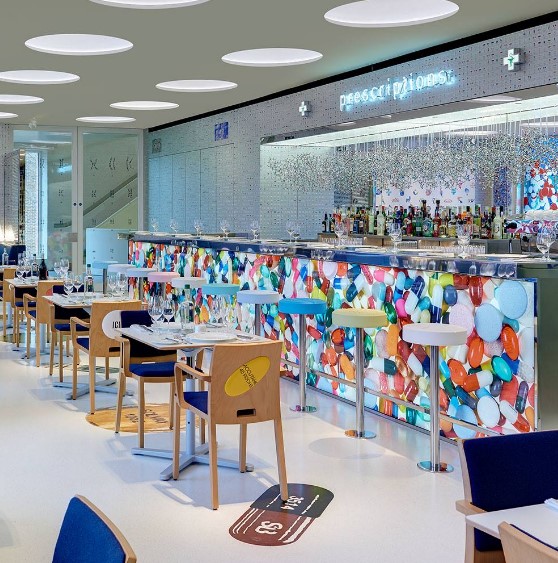 You can also eat at a pharmacy in London. In early 2016, renowned artist Damien Hirst opened Pharmacy2 at Newport Street Gallery. The interior contains only tablets, jars, tubes, syringes, and tubes – everything that reminds of the famous series of works by the artist himself. The menu is quite ordinary: curry and pasta, pies and steaks, a lot of stew, fillets, cutlets. Our pick is the crab burger. There is a vegetarian menu.
Newport Street, London SE11 6AJ
http://pharmacyrestaurant.com
Dans le Noir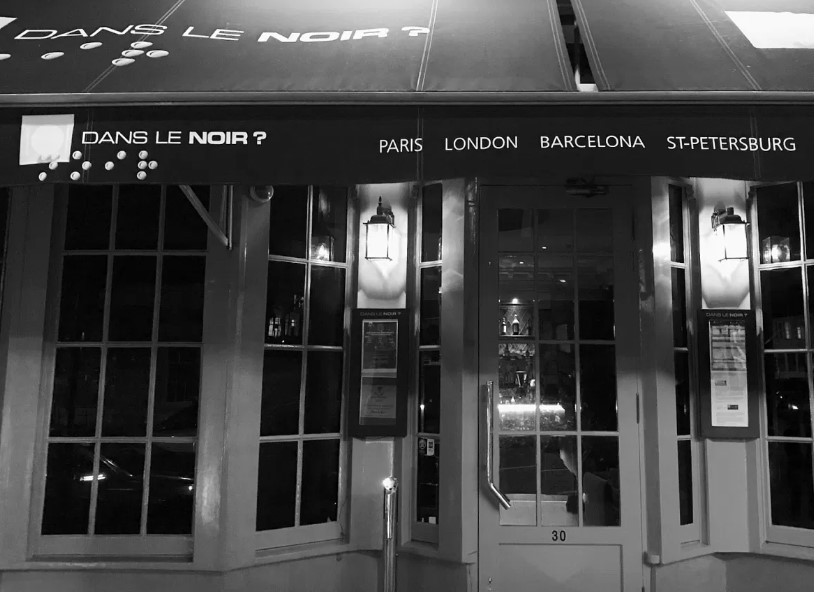 At Dans le Noir restaurant you can eat in total darkness. The menu is always surprising because the whole point is not to look at the food and not think about what to eat, but to feel the taste. You can choose from meat, fish, and vegetarian menus. The tables are only shared because guests have to communicate (in complete darkness). All restaurant employees are visually impaired. During dinner, they talk about what it is like to have blindness psychologically and socially.
30-31 Clerkenwell Green, Clerkenwell, London EC1R 0DU
http://london.danslenoir.com/en/home
Also Like