A Quick and Easy Cheesecake
by Editorial Staff
The most favorite and fastest cheesecake recipe.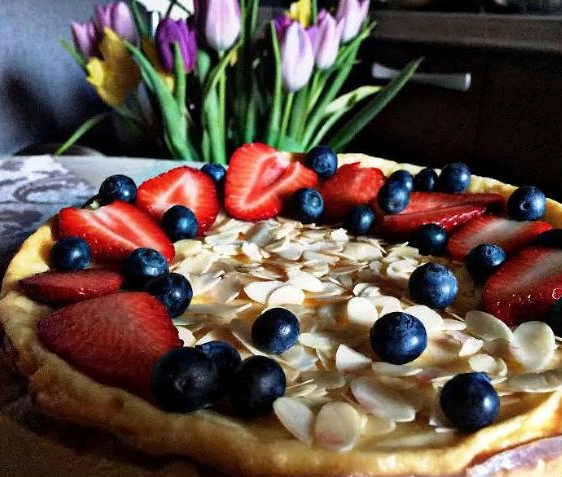 Cook: 1 hour 40 mins
Servings: 10
Ingredients
Flour – 300 g
Sugar – 200 g
Eggs – 5 pcs.
Butter – 125 g
Cream – 200 g
Cottage cheese – 500 g
Mascarpone – 1 tbsp
Starch – 2 tbsp
Vanilla sugar
Salt
Fruit (for decoration)
Directions
For the dough, sift the flour, add a pinch of salt, 100 g of sugar and butter (chopped). Rub with your fingers until crumbs are obtained.
After crumb formation, add 1 egg and 2 tablespoons of warm (but not hot!) Boiled water. Mix until smooth. If the dough is very thin, add a little flour.
Wrap the dough in plastic wrap and leave in the refrigerator for about 30 minutes.
For the filling, grind 100 g of sugar with cottage cheese. Add starch, vanilla sugar, salt, cream, the remaining 4 eggs, mascarpone.
Immerse all the ingredients for the filling in a blender and beat until a creamy homogeneous mass is obtained.
Evenly spread the dough into a round, greased form with butter, form small sides (about 2-3 cm). Pour the whipped filling evenly on top of the dough.
Place the cheesecake in the oven for 45-60 minutes.
Let the cake cool and decorate it. You can use chocolate, fruit, jelly, nuts, etc. All options go well with the delicate and unpleasant taste of this wonderful cheesecake.
Bon Appetit!
Also Like
Comments for "A Quick and Easy Cheesecake"