A Real Hodgepodge with Smoked Meats
by Editorial Staff
The recipe for this hodgepodge was told on television by a well-known restaurateur, I took note of it and now I cook the hodgepodge with smoked meats this way.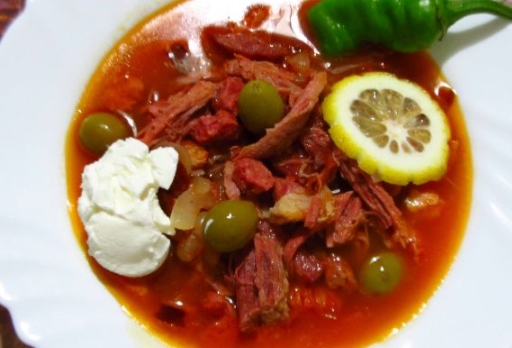 Ingredients
Beef brisket – 700 g
Sugar beef bone – 300-400 g
Smoked pork ribs – 300 g
Large onions – 1 pc.
Smoked sausages (hunting type) – 200 g
Smoked sausage – 200 g
Pickled cucumbers – 3-4 pcs.
Cucumber pickle – 1 glass
Vegetable oil – 2 tbsp
Butter – 15 g
Tomato sauce – 150 g
Garlic – 1 clove
Bay leaf – 2 pcs.
Black peppercorns – 3 pcs.
Salt to taste
Chili pepper (optional) – 1 pc.
For filing:
Lemon
Sour cream
Pitted olives
Hot pepper
Directions
Prepare broth. Place the sugar pit in a large saucepan and fill with 3 liters of cold water. Put on high heat, bring to a boil.
Remove the film from the beef brisket. Beat the brisket lightly with a kitchen hammer (this is done to break up the fibers in the meat so it will be very soft but juicy afterward). Dip the brisket in boiling water to curdle the protein immediately and retain its flavor.

Also, dip the chopped pork ribs into the pot.

Let the broth boil and then collect the foam. Add bay leaves and peppercorns to a saucepan. Boil the broth under a closed lid over low heat for 2 hours, until the meat is soft.
In the meantime, cook the fry. Cut the onion into strips. Fry the onion with chopped garlic in a mixture of vegetable and butter until translucent.
Add tomato sauce and cook for about 1 minute.
Cut the smoked sausage into thin strips and fry in a dry frying pan for a couple of minutes.
(If the smoked sausage is poorly cleaned, then put it in cold water for 5 minutes, and then remove the film.)
Peel the smoked sausages and cut them into slices.
Peel the cucumbers and cut them into small cubes (peeling the cucumbers is mandatory!). Boil the cucumber pickle in a separate saucepan (this is also an important point).
Remove the meat from the stock with the broth and separate the flesh from the bones. Immediately break the flesh into small pieces using two forks.
Put boiled meat, all the sausage, cucumbers, frying in a saucepan with broth, and pour in the broth. Stir well, cook for 15 minutes. Taste the hodgepodge; if it seems unsalted, add salt.
If everyone in your family loves spicy things, then chili peppers can be put in a common pan 10 minutes before the soup is ready.
The finished hodgepodge with smoked meats should be infused for 15 minutes, and then the bay leaf should be removed.

Serve a hodgepodge with smoked meat with sour cream, lemon, olives and hot pepper.
Enjoy your meal!
Also Like
Comments for "A Real Hodgepodge with Smoked Meats"