Almond Oatmeal Cookies
by Editorial Staff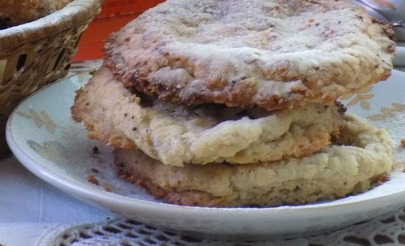 Oatmeal cookies with butter and almonds are a simple aromatic pastry for a cup of tea or coffee during Easter week. Indulge your loved ones with this dessert!
Cook: 50 minutes
Servings: 3
Ingredients
Oatmeal flakes – 110 g
Powdered sugar – 1 pack
Wheat flour / Flour (about 2 tablespoons of whole-grain) – 40 g
Butter (half a pack of 180 g) – 90 g
Almonds (I took nuts, almond petals are better) – 1 tbsp
Flavoring
Directions
You can take any oatmeal. I always use coarse cereal for myself and for the cookies I took Hercules. In a blender, I broke the flakes along with the powdered sugar. I broke it not to flour, but so that it was clear that it was flaking.
Pour the mixture into a bowl where we will make the cookie dough. Add wheat flour or better whole grain. I smashed the nuts with a pestle in a mortar, not finely. They can be pre-fried.
The butter must be put out of the refrigerator in advance to keep it soft. Cut it into small pieces and spread it to the mixture along with the nuts and two drops of almond flavor.
Rub it into crumbs with our hands. If the dough is too crumbly, then add a little more oil. The dough is pliable, it doesn't stick to my hands and I rolled it into a ball.
Prepare a baking sheet covered with baking paper. I will be using a silicone mat. Tear off pieces from the dough, roll them into small balls, flattening them into cookies. Cookies turned out to be 9 pieces D ~ 5 cm and a height of 1 cm. I laid them on the mat with a distance from each other. We heat the oven to t-180 C.
We put it in the oven for 10-15 minutes. I have a mini oven and it bakes really fast. It took me 10 minutes. Don't overdry the cookies. Remove it from the oven immediately. Cool completely. The cookies will become larger in diameter ~ 7 cm during baking.
Enjoy your meal!
Also Like
Comments for "Almond Oatmeal Cookies"